Mary Ellen Vigeant, Director of Disability Services, partners with students, faculty, and staff to promote accessible environments across the Law Center. Prior to coming to Georgetown, Mary Ellen was a Student Accessibility and Academic Resource Specialist at The Fletcher School at Tufts University. Mary Ellen is a certified Speech Language Pathologist with a M.Ed. in Higher Education from Merrimack College, a M.S. in Speech Language Pathology from the University of Rhode Island, and a B.S. in Communicative Disorders from the University of Rhode Island.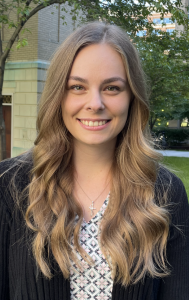 Allison Canaday, Assistant Director of Disability Services and Wellness, works directly with students with disabilities to provide reasonable accommodations in accordance with the Americans with Disabilities Act, Section 504 of the Rehabilitation Act, and University policy and protocol. Allison partners with Law Center staff to develop resources that promote attention to personal well-being as a core professional skill. Prior to coming to Georgetown, Allison was a Vocational Specialist at Brain Injury Services, where she worked to provide job opportunities and negotiated reasonable workplace accommodations for brain injury survivors. She earned a Master's degree in Pastoral Counseling and a Bachelor's degree in Psychology from Liberty University.
Students are encouraged to email Disability Services to schedule an appointment to meet with Allison or Mary Ellen in person (Hotung 3101) or via Zoom.