Office of Disability Services Staff
Mary Ellen Vigeant
Director of Disability Services
Mary Ellen engages in the interactive process of determining and facilitating reasonable accommodations for students with disabilities based on documentation and in accordance with applicable local and federal law. She meets with students to provide guidance related to law center accommodations, MPRE/bar accommodations, and for individualized coaching in time management, study skills, and disclosure of disabilities to professors or employers. Mary Ellen partners with faculty and staff to implement accommodations and promote accessible environments across the law center.
Prior to coming to Georgetown, Mary Ellen was an Accessibility and Academic Resource Specialist at The Fletcher School of Law and Diplomacy at Tufts University. Mary Ellen is a Speech Language Pathologist and worked with students with disabilities in the K-12 schools prior to entering higher education. She earned a M.Ed. in Higher Education from Merrimack College, a M.S. in Speech Language Pathology from the University of Rhode Island, and a B.S. in Communicative Disorders from the University of Rhode Island.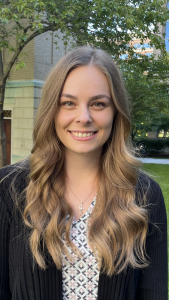 Allison Canaday
Assistant Director of Disability Services and Wellness
Allison Canaday works directly with students with disabilities, and where appropriate with their professors, to ensure the students receive equal access to programs and facilities in accordance with the Americans with Disabilities Act, Section 504 of the Rehabilitation Act, and University policy and protocol. Allison partners with staff within and outside the Office of the Dean of Students to produce programs, communications and services that promote a healthy lifestyle and attention to personal well- being as a core professional skill, primarily for students but also for the entire Law Center community. Prior to coming to Georgetown, Allison was a Vocational Specialist at Brain Injury Services, where she worked to provide job opportunities and negotiated reasonable workplace accommodations for brain injury survivors. She earned a Master's degree in Pastoral Counseling and a Bachelor's degree in Psychology from Liberty University.