Dr. Judith Pérez-Caro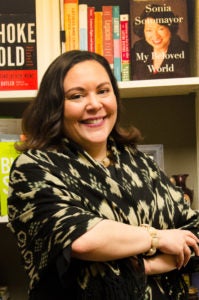 Dr. Pérez-Caro [pronouns: she/her/hers] currently serves as the inaugural Director of Equity and Inclusion at the Georgetown University Law Center. In this role, she serves as the primary thought leader and advisor on all institutional matters pertaining to diversity, equity and inclusion, and promotes collaborative efforts to engage the law school's faculty, staff, administration, and students.
Dr. Pérez-Caro advocates for students who are historically underrepresented in the legal profession, develops and sponsors educational programs that explore the intersection of social justice and diversity, and provides faculty and staff with advisory services to support inclusive pedagogy and administrative practices.
Dr. Pérez-Caro has served as an educator and faculty member, scholar, and diversity officer for the past two decades, and is professionally trained as a sociologist. She holds degrees from Canisius College (BA), Columbia University (MA), and Fordham University (PhD). As a Puerto Rican first-generation college graduate from The Bronx, Dr. Pérez Caro has remained committed to supporting the success of underrepresented students throughout her career.