Smoking is prohibited at all times on the Law Center campus or within 25 feet of the Law Center grounds except for designated smoking areas (see map below). Smoking is also prohibited at all times inside all Law Center owned and leased buildings, as well as all vehicles located on Law Center owned and/or leased property.
For more information, view the full text of the Smoking Policy.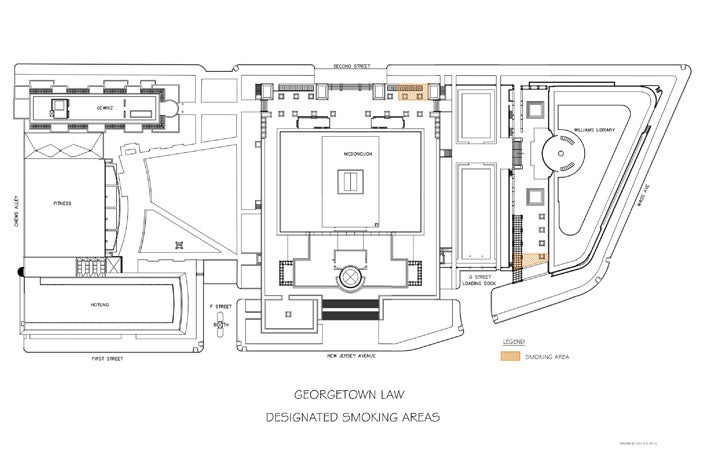 Smoking Policy FAQs
Why did Georgetown Law implement this policy?
The policy will help protect people from unwanted and involuntary exposure to tobacco and secondhand smoke, as well as create a cleaner living, learning, and working environment. This will allow our community to better demonstrate our Jesuit characteristic of cura personalis, or "care for the whole person,"
Have all Georgetown campuses instituted this policy?
No. University policy dictates that the Executive Vice President for each campus is free to designate smoking areas for his or her campus. This is the Law Center's policy.
Who has to comply with this policy?
This policy governs all employees, students, and visitors to the Georgetown Law campus.
How will people know about the policy?
Communication of the Smoking Policy is critical to its successful implementation. We encourage all members of the community to inform visitors of the policy and have provided ample signage on all exterior doors, throughout our outdoor areas, and at the designated smoking areas. We have small maps detailing the designated smoking areas available for download and all DPS officers will have paper copies for distribution.
How will the Law Center enforce this policy?
Department of Public Safety officers will verbally warn all individuals in violation of the policy and direct them to designated smoking areas using the provided maps. Repeat violators will be handled through the appropriate Law Center channels as outlined in the Smoking Policy.
Can I get assistance if I want to quit smoking?
Smoking cessation resources are available through the Center for Wellness Promotion. Additional information can be found at SmokeFree.Gov.