The U.S. Use of Drone Strikes and the Need for International Transparency
October 25, 2021 by Digital Editor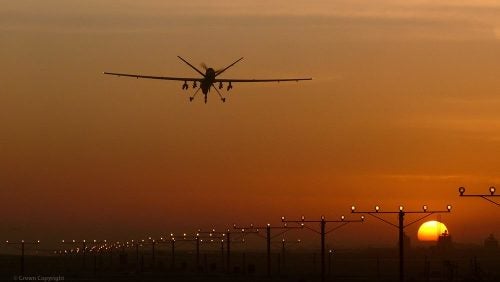 On 29 August 2021, the U.S. military carried out a drone strike based on intelligence that its target posed an imminent threat to an airport in Kabul, Afghanistan. The strike took place in response to an attack, claimed by the Islamic State affiliate ISIS-K, that killed at least 169 Afghan civilians and 13 members of the U.S. military at the same airport just three days before. General Mark Milley, Chairman of the Joint Chiefs of Staff, called it a "righteous strike." 
But just two weeks later, U.S. Central Command was forced to apologize.  A New York Times investigation revealed that the strike, based on mistaken intelligence, targeted an electrical engineer named Zemari Ahmadi who in fact worked at a California-based aid organization. The strike also killed nine of his family members, seven of them children.
The U.S. military does not publish data on the strikes it has conducted, but the Bureau of Investigative Journalism estimates that the United States has conducted at least 13,072 strikes killing at least 4,000 people—and possibly as many as 10,000—in Afghanistan alone since 2015. Since the war in Afghanistan began two decades ago, much of U.S. military strategy has involved remote killings of suspected combatants. 
As a military strategy, targeted killing is not unique to the United States. At least ten other countries have conducted drone airstrikes. Turkey recently carried out a spate of drone airstrikes targeting the leadership of the Kurdish People's Protection Units (YPG) in northeastern Syria. In November 2020, Israeli Mossad agents used artificial intelligence technology to kill a top Iranian nuclear scientist, Mohsen Fakhrizadeh, using a remote-controlled machine gun. Other states, like Saudi Arabia and China, have not yet conducted airstrikes, but maintain the capacity to do so.
While technology has rapidly advanced, expanding several countries' capacities to conduct remote drone strikes in recent years, international law has done little to clearly define targeted killings, establish parameters to govern use of strikes in order to protect human rights, or create avenues for victims to seek redress. While international law frameworks are slow to change, scholars and commentators continue to debate the legality of drone strikes employed by the U.S. and other countries over the past twenty years. 
U.S. officials justify the use of drone strikes in Afghanistan, Iraq, and elsewhere by referencing Article 51 of the UN Charter, which provides an explicit exception to the Charter's prohibition on international use of force for self defense. The U.S. justification asserts that the law of armed conflict (LOAC) under customary international humanitarian law applies to strikes on groups like Al-Qaeda, the Taliban, and ISIS, which are engaged in ongoing non-international armed conflict. LOAC requires that the use of lethal force be of military necessity, that there be a distinction between combatants and civilians during the attack, that the force be proportional and avoid excessive loss of civilian life, and that the entity using such force respects humanity by minimizing the killing of combatants. The United States and other international proponents of drone strikes contend that the strikes abide by international law because they are driven by a counter-terrorism military necessity, feature the intentional targeting of combatants, and are proportional and humane by purportedly minimizing civilian and combatant casualties.
International law scholar and former U.N. Special Rapporteur on extrajudicial, summary or arbitrary killings Philip Alston argues that the lack of transparency around drone strikes conducted by the United States and other countries makes it nearly impossible to determine whether a strike meets the LOAC standards of military necessity, distinction, proportionality or humanity. Where domestic accountability mechanisms and policies are in place, as in Israel, they have done little to limit state practice. As a result, international accountability mechanisms must be established to limit growing state reliance on targeted killings and the inevitability of mistakes. 
Perhaps states carrying out drone strikes should be required to submit domestic investigations with regular frequency to the U.N. Human Rights Council, which would provide international scrutiny and ensure a level of transparency that may elucidate whether international LOAC standards are in fact being met. The United States should be amenable to this solution, as it has demanded that other states submit investigations to the U.N. Human Rights Council to demonstrate compliance with international law in the past. As more states use advanced technology to conduct drone strikes and other remote methods of targeted killings, the United States is also incentivized to set a norm of international transparency through state practice.
Just as international pressure may be among the only remaining tools to shift the legal and policy scaffolding that upholds U.S. use of targeted killings, international legal dispute resolution mechanisms may be among the only remaining opportunities for victims to seek redress. In January 2021, the relatives of 34 Yemenis killed by U.S military action – including a drone strike that killed several members of one family travelling in a wedding convoy – filed a first-of-its-kind petition with the Inter-American Commission on Human Rights (IACHR). The United States is not a signatory to the IACHR, but the Commission issued a decision in May 2020 holding the U.S. internationally responsible for the torture and refoulment of former Guantanamo detainee Djamel Ameziane. A similar decision in favor of the Yemeni petitioners could influence subsequent legal opinions on the use of targeted killings like drone strikes around the world.
Although it is impossible to say whether the U.S. military would have investigated the killing of Zemari Ahmadi and issued a public apology in the absence of international scrutiny, there is no question that the measure of transparency precipitated by the New York Times investigation forced the country to take a measure of accountability. Creating pressure for transparency and accountability – in media, in domestic political forums, and in international legal bodies like the IACHR – may nudge forward international norms that could increase protections for human rights amid the use of remote targeted killing and its tragic consequences.
---
Molly Bernstein is a second-year J.D. student in Georgetown's evening program. With experience in the private sector, journalism, and advocacy, she has most recently worked on issues in the U.S. criminal legal system at The Justice Collaborative and The Appeal. She received a BA in international relations from Brown University and a master's in global human development from Georgetown University.