Western Sanctions and the Khoiniki Oilfields of Belarus
October 19, 2021 by Digital Editor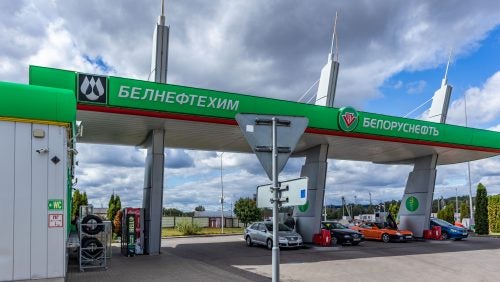 Background
Belarus: A Short History
Once part of the Russian Empire, Belarus was a constituent republic of the Soviet Union before attaining independence in 1991. Since 1994, it has been ruled by Aleksandr Lukashenko, its first and only directly elected president. Lukashenko's authoritarian rule, including "restrictions on political and civil freedoms, freedom of speech and the press, peaceful assembly, and religion," has led to the country being nicknamed "Europe's last dictatorship." The government of Belarus lived up to the name by forcing an international flight to land in its capital, Minsk, in May 2021, so that authorities could arrest a dissident journalist. The global community has widely criticized the country's August 2020 presidential elections, in which Lukashenko was "officially" reelected with 80% of the vote, as neither free nor fair.
Post-independence, Belarus has the closest ties with Russia of all post-Soviet states. The two countries signed a treaty creating a two-state union in 1999, although few substantive steps toward that union have happened and further negotiations have not been productive. Russia has historically been, and remains, the main oil supplier for Belarus: even during contentious negotiations over supply terms in early 2020, Russia supplied 82% of oil imports to Belarus.
The Belarusian Oil Industry
Historically, Belarus has not been a meaningful supplier of crude oil for export, largely relying on imported oil from Russia. Nevertheless, it contains many refineries that process Russian oil as well as a network of pipelines to and from Russia and other countries. Many of these refineries and pipelines date back to Soviet times, and, as of 2019, refined petroleum accounts for 16.5% of total export revenue for Belarus.
Belorusneft: The National Oil Company
State Production Association Belorusneft started in 1966 as a Soviet state-owned enterprise. The state created a parent company, Belneftekhim, in 1997, but Lukashenko removed Belorusneft from its control in July 2021 in response to United States sanctions against Belneftekhim.
Belorusneft is wholly state-owned, with upstream, midstream, and downstream projects including exploration, production, oilfield services, refining, transportation, and retail sales of gasoline. Little information is available about Belorusneft's revenue or its governance, such as the selection of its board of directors and any independent board members, but its stated purpose appears to be exclusively for the public good. The company has overseas projects in Russia, Ecuador, Poland, and Ukraine, which include exploration, drilling, production, and sales.
Discovery and Development of the Khoiniki Oilfields
In June 2020, Belorusneft announced the discovery of two new oilfields in the Khoiniki District of the Gomel Region in southeast Belarus. According to a preliminary estimate, these two oilfields have reserves of two point five million tons of "good quality" and "light, sweet, low-viscosity" oil. Belorusneft has announced plans to drill seven exploratory wells in this area between 2020 and 2023. Belorusneft has not announced any partners in this venture, so it seems to be solely financed by the Belarusian government, through Belorusneft. Soon after this discovery, a nearby refinery announced $1.2 billion in planned upgrades.
Analysis
The discovery of the Khoiniki oilfields, and the possibility of a large increase in domestic oil production, would have implications for Russia-Belarus relations as well as recent Western sanctions against Belarus. Naturally, it would also have financial consequences for the state of Belarus, independent of international considerations.
Russia-Belarus Relations
Belarus has not previously been a major oil producer and has consistently relied on its neighbor and close ally Russia for upwards of 80% of its oil imports. Despite their historic closeness, relations between the two countries have been unpredictable, as illustrated by the two countries' failure to finalize their two-state union over the past two decades, and by the supply disruptions caused by the two countries' dispute over the terms of their oil supply agreements. Any leverage that Belarus has held over Russia in the oil business has largely depended on their large refining and transportation capacity; for example, Belarus introduced a 50% tax on profits from transit and transportation of foreign oil in 2020. Russian producers, however, certainly have other refining and transport options. An increased production capacity, combined with its refineries and pipelines, will give Belarus both increased clout in its dealings with Russia, and a certain degree of energy independence.
Recent Sanctions Against Belarus
The widely discredited presidential election of 2020, along with decades of other human rights issues, have led to sanctions from the United States and the European Union, among others, against the state of Belarus, high-level individuals in its government, and certain state-owned industries, in some cases expanding or extending previously existing sanctions. In April 2021, two major Russian producers paused sending oil to Belarusian refineries, and in May 2021, Azerbaijan ceased sending crude to Belarus altogether, all citing American sanctions as the cause. In June 2021, the European Union imposed restrictions on trade in petroleum products, access to capital markets, and insurance or reinsurance, further hampering the petroleum industry in Belarus. Similar to the energy independence from Russia that increased oil production would grant Belarus, having its own increased domestic oil supply would soften the blow of sanctions on the country. Belarus could produce and refine petroleum products for its own domestic use, without the restrictions of foreign sanctions. Thus, the Khoiniki oilfields may represent a degree of relief from these sanctions.
Effect on Domestic Economy
Although the price of oil has fluctuated dramatically in recent years, there is value for the government of Belarus in having control over large quantities of it. Even when prices are low, it may be able to hold onto oil to sell on the world market at a more favorable price, or otherwise bolster itself against low prices. It could also subsidize petroleum products either for industry, or for the growing number of private automobile owners in Belarus. Thus, a significant increase in oil production in Belarus could either raise state revenues through Belorusneft, support industry, raise the standard of living of its citizens, or some combination of these and other factors. Any of these could have a significant impact on the economy of Belarus.
Conclusion
Belarus has not historically been a major oil producer, and it will likely be a net importer for the foreseeable future. The discovery of the Khoiniki oilfields, however, as well as subsequent discoveries of additional reserves in the Gomel Region and plans to drill more exploratory wells, could signal changes for Belarus in its dealings with Russia, its relationship with the international community (particularly Europe and the United States), and its domestic economy. Such changes would likely strengthen the Lukashenko regime in the short term, making any democratic reforms far less likely.
---
David L Roghair is an LLM student at Georgetown, and a Magistrate Judge for the Alaska Court System in his hometown of Utqiaġvik (Barrow), on the Arctic Ocean. The views and opinions expressed in this blog post are those of the author and do not necessarily reflect those of his employer. This post contains material prepared for the course The International Oil & Gas Industry – Legal and Policy Issues, Professor Alisa Newman Hood, Georgetown University Law Center, Summer 2021.