This virtual program features a panel discussion and serves as a book launch for Common Sense Media's new compilation of essays. Edited by Common Sense Media CEO Jim Steyer, the book is entitled Which Side of History? – How Technology is Reshaping Democracy and Our Lives.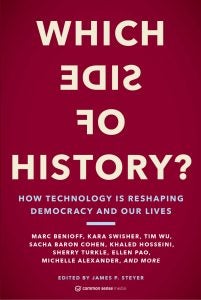 Dean William M. Treanor and Hillary Brill (L'00), Interim Executive Director of the Institute of Technology Law and Policy, offer opening remarks.
A panel discussion follows, examining recent issues at the intersection of technology and policy, including intermediary liability and general regulation needs for platform governance.
The panel is moderated by April McClain-Delaney (L'89), Washington, D.C. Director of Common Sense Media and a member of the Georgetown University Board of Regents. It features:
This event is sponsored by the: