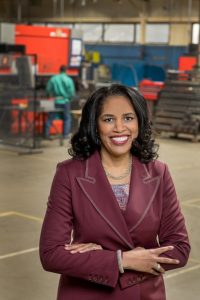 Denise R. Cade is presently Senior Vice President, General Counsel and Corporate Secretary at IDEX Corporation (NYSE:IEX), an S&P 500 global manufacturer specializing in fluid and metering technologies, health and science technologies, and fire, safety and other diversified products, including the Jaws of Life® rescue tools. In this role, she leads all legal, regulatory, compliance, information security/cybersecurity and corporate governance matters.
Denise currently serves on the Board of Directors of Teledyne Technologies Inc. (NYSE:TDY), sitting on the Audit Committee and the Nominating and Governance Committee. Teledyne is an S&P 500 leading manufacturer of sophisticated instrumentation, digital imaging products and software, aerospace and defense electronics, and engineered systems.
Earlier this year, WomenInc. magazine named Denise to its 2019 Most Influential Corporate Board Directors list. In 2019, she was named one of the Most Powerful Women in Corporate America by Black Enterprise magazine and was included in The Legal 500 GC Powerlist that consists of the most influential in-house lawyers in business. In 2018 and 2015, Denise was named as one of the Most Influential Black Lawyers by Savoy magazine.
Prior to joining IDEX in 2015, Denise was senior vice president, general counsel, corporate secretary and chief compliance officer for SunCoke Energy, Inc. (NYSE:SXC) and its controlled company, SunCoke Energy Partners, L.P. (NYSE:SXCP), for nearly five years.
She played a significant role in shaping the vision and executing transactions to take these two SunCoke companies public in just two years. Under Denise's leadership, the legal department was awarded SXC's highest honor in connection with the SXCP formation and public offering. Additionally, Denise was a member of the SXCP Board of Directors.
From 2005 to 2011, Denise was with PPG Industries, Inc., most recently as assistant general counsel, securities and finance, and corporate secretary. While there she also served as chief mergers and acquisition counsel and general counsel for the Glass and Fiber Glass Division. During her tenure at PPG, Denise was part of the leadership team that closed transactions with an aggregate value of over $2 billion and closed $2.5 billion in public bond financings.
Denise began her legal career in private practice, specializing in corporate and securities law matters and corporate transactions. She was a partner at Shaw Pittman LLP in Washington, D.C., before her move to PPG. Denise received a bachelor's degree from Marquette University and a J.D. from Georgetown University Law Center.
Denise devotes time to organizations that prioritize the professional development and advancement of women and people of color, including The Chicago Network, where she is Vice Chair of the Board; The Executive Leadership Council; The Executives' Club of Chicago; and the Georgetown Law Board of Visitors.
Denise enjoys traveling and exploring different cultures. In addition, she is an avid football fan and is undertaking to see a game at every NFL stadium over the next few years.