Judge Virginia Covington (L'80)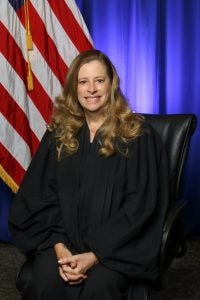 Virginia M. Hernandez Covington is a United States District Court judge for the Middle District of Florida and a 1980 graduate of Georgetown University Law Center where she served as an Editor of The Tax Lawyer law review. When Judge Covington received her commission in September 2004, she became the first Hispanic named as a district court judge in the Middle District of Florida. Previously, Judge Covington served on Florida's Second District Court of Appeal, having been appointed to that court in September 2001, the first Cuban American woman to serve on any of Florida's appellate courts. A 1976 honors graduate of the University of Tampa, where she received the Outstanding Graduate Award, as well as an MBA in 1977, Judge Covington spent much of her career as an Assistant United States Attorney for the Middle District of Florida.
During her tenure as a federal prosecutor, Judge Covington received over 80 written commendations, several special achievement awards, and two Director's awards for outstanding service. Judge Covington handled some of the most complicated asset forfeiture cases of her day including forfeiting over $80 million dollars from drug kingpin Jose Gonzalo Rodriguez Gacha and the BCCI forfeitures. In 1988, Judge Covington became the first woman supervisor in the Middle District of Florida when she was named Chief of the Asset Forfeiture Section.
Because of her many years of community service, Judge Covington received the Outstanding Alumnus Award from her high school and from both the undergraduate and graduate programs at the University of Tampa. Long active in her support for Georgetown, Judge Covington served two terms on the Law Alumni Board, two terms as a Governor and is currently a Senator for the University. Also a member of the Board of Visitors, Judge Covington is a 2020 recipient of the Georgetown Law Alumnae Award.
While a student at the Law Center, Judge Covington was a founding member and treasurer of La Alianza de Derecho, an organization for Hispanic students. In her local community, Judge Covington served multiple terms as president of the Tampa Bay Georgetown Alumni Club as well as volunteering for more than thirty years as an interviewer for the Georgetown Alumni Admissions Program. Some of the honors Judge Covington has received include an honorary degree from Stetson University College of Law, as well as Judge of the Year Award from the Hispanic Bar Association of Central Florida, and Tampa's Hispanic Woman of the Year.
Judge Covington is fortunate to be able to work with colleagues throughout the world. Most of her assignments have been working with judges throughout Latin America, teaching in Spanish on subjects such as trial advocacy, judicial ethics, and court management. In addition, she has lectured multiple times for the State Department in numerous European countries and in Asia on subjects such as human trafficking, intellectual property crimes, drug prosecutions and money laundering. She has hosted numerous groups of judges in her home district as they traveled to the United States to observe the accusatorial system of justice.
Judge Covington is blessed to have a great family—her children, Michael, Laura, and Stephen, her daughters- in- law, Rachel and Kelly, and her grandchildren, Alejandro and Sofia.