Elizabeth Abdoo, C'80, L'86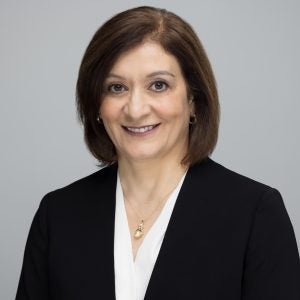 Elizabeth Abdoo is the former General Counsel of Host Hotels & Resorts (NASDAQ:HST), an S&P 500 company headquartered in Bethesda, Maryland and the largest lodging real estate investment trust and one of the largest owners of luxury and upper-upscale hotels. Ms. Abdoo served as Executive Vice President, General Counsel and Secretary from 2003 until November 2019 having joined the company in 2001 as Senior Vice President, General Counsel.
She was a Senior Advisor until April 2020. During her nineteen years at the company, she led a high performing team of attorneys and oversaw the company's legal function in mergers, acquisitions and joint ventures, capital markets, corporate governance, ethics and compliance, litigation, and other matters. She was a member of the executive committee and the investment committee, which reviewed acquisitions, dispositions, capital market activities and major capital expenditures.
Prior to joining Host, Ms. Abdoo was Senior Vice President and Assistant General Counsel of Orbital Sciences Corporation (now Northrup Grumman) where she advised the company on mergers and acquisitions, finance and securities matters. Prior to her in-house career, she practiced corporate law at Winthrop, Stimson, Putnam & Roberts (now Pillsbury Winthrop) in New York and at Hogan & Hartson (now Hogan Lovells) in Washington DC.
Ms. Abdoo is currently a senior legal advisor to Bowman Consulting Group Ltd., an engineering and professional services firm headquartered in Reston, Virginia.
Since November 2019, she has been a director of the Alliance for the Chesapeake Bay where she chairs the governance committee and serves on the executive and finance committees.
Ms. Abdoo received her BA from Georgetown University in 1980 and JD from the Law Center in 1986. She has been a member of the Board of Visitors of the Law Center since 2018. She is also a previous recipient of the Law Center's Alumnae Award.