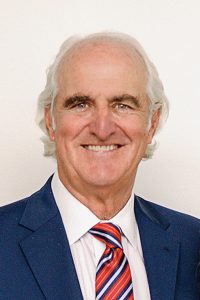 James J. Pinto lives in Greenwich, Connecticut and graduated from Georgetown University with an AB degree in Urban Economics and the Georgetown Law Center with a JD degree. After graduation he became an associate at Kelley, Drye & Warren in New York City before returning to Washington to work for the Department of Energy, International Trade, and was named Counsel to the White House Conference on Coal. He was active in both the Young Lawyers Division and International Trade Section of the American Bar Association.
He is admitted to the practice of law in New York State and a Member of the Bar of the Supreme Court of the United States.
He was a Partner in a Washington law firm where he practiced corporate and securities law. He returned to New York City as a General Partner of an investment partnership which conducted fund restructurings, as well as proxy contests, in Canada, Great Britain, and the United States. Since 1990 he has been the President of PFG Corp. which manages private equity and debt investments. From 2010 until August 2021, he also was the Managing Director of a private equity fund. He has served on the Boards of publicly traded companies including those in the cable, energy, food, and hospitality industries.
In 2015, James and his wife Dale established the Dale and James J. Pinto Georgetown Law Robert F. Kennedy Human Rights Fellowships, in the spirit of advancing human rights law and criminal justice reform. In conjunction with the Law Center, every year fellowships and summer associate positions are awarded by a Panel with members prominent in these areas. In 2016, Dale co-chaired the Law Center's Dean's Dinner to benefit Opportunity Scholarships. James is a member of the Board of Robert F. Kennedy Human Rights and a member of the Board of Visitors of Georgetown Law.
James and Dale are the proud parents of three children who are graduates of Georgetown, Caren (N'11), Nicholas (B'12), and Brooke (L'17).