Support the Cassandra Q. Butts Memorial Endowed Fellowship Fund
Family, friends and colleagues of the late Cassandra Q. Butts are supporting in her memory an endowed fellowship within the Women's Law & Public Policy Fellowship Program at Georgetown University Law Center.  This fund will support the Women's Law and Public Policy Fellowship Program, of which she was an alumna. One Fellowship will be awarded annually in perpetuity to support the work of a law graduate committed to advancing women's access to comprehensive health care.
About Cassandra Q. Butts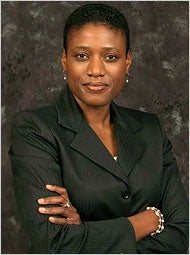 Ms. Butts came to Washington, DC as a Women's Law & Public Policy Fellow in 1991-1992 and was placed at the National Health Law Program. There she began her legal career working to advance social justice by increasing access to health care for vulnerable populations. She was a dedicated supporter of the Women's Law & Public Policy Fellowship Program, making regular donations and taking time from her busy schedule to provide guidance to current fellows.
A 1987 graduate of the University of North Carolina at Chapel Hill, Ms. Butts worked as a researcher for the African News Service in Durham before attending Harvard Law School. There she met future president Barack Obama when they were filling out financial-aid forms. Along with Valerie Jarrett, Susan E. Rice and others, Ms. Butts was described as one of the President and First Lady Michelle Obama's "Sisterhood" of advisers. The President echoed the thoughts of countless others when he eulogized her as "a warrior for social justice, a warm and generous servant who devoted her life to bettering the lives of others, and an unbelievable friend."
About the Fellowship
This Fellowship will enable future generations of advocates to receive the highest quality training to advance gender equity in Ms. Butts' memory. As a participant in WLPPFP, the Butts Fellow will be welcomed into an alumnae network of over 300 women's rights advocates, will participate in additional training and skills building workshops, and receive mentoring and career guidance to foster a life-long commitment to public service.
You may give on line here. Please check "other" and indicate "Cassandra Butts Memorial Endowed Fellowship Fund." You can also call 202.662.9500.
Please know that we are touched by your kindness and warm thoughts. Cassandra's life of service was an inspiration to those she touched, and this fellowship will pay tribute to her career and values, while supporting a program about which she cared deeply.