Cassandra Sneed Ogden, L'81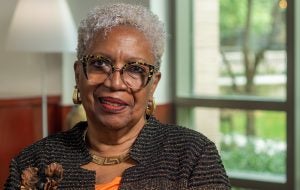 From her days as a science teacher in the DC and Baltimore public school systems and program analyst at Verizon, to her transition as a lawyer in a private firm, administrative law judge, and the chief executive of a nonprofit legal education organization, Ogden has remained committed to serving the underserved. As the Chief Executive Officer of the Council on Legal Education Opportunity, Inc. (CLEO) for over 25 years, she worked with the legal community to build partnerships with Law School Admission Council, Association of American Law School, AccessLex, Minority Corporate Counsel Association, Association of Corporate Counsel, National Conference of Bar Examiners, Leadership Council on Legal Diversity, the national bar associations of color, and over 175 law schools to expand CLEO's outreach. These relationships enabled CLEO to support law- related programs for students, beginning in high school through the bar examinations.
Founded in 1968 when the percentage of minority practicing attorneys in America was less than three percent, CLEO is the longest serving national nonprofit corporation that prepares diverse and disadvantaged students to succeed in law school and beyond.
Under her leadership and while facing numerous financial and programmatic challenges, Ogden and her team served thousands of college and law school students annually. From the law school admission test through the bar examination, they helped prepare students to realize their dreams of becoming a Voice for the Voiceless – Champions for Social Justice. From 1995 until she retired in December 2020, Ogden's commitment to the CLEO EDGE – Education, Diversity, & Greater Equality allowed her to overcome the hurtles that asphyxiate numerous nonprofits to celebrate CLEO's 50th Anniversary in 2018.
Ogden also established three nonprofit organizations: PTB Testing Techniques, to teach graduates how to study to pass the bar examination; Community Economics and Cultural Exchange, to encourage African Americans to support black business and cultural activities; and the Professional Football Players Mothers' Association, to educate and support parents of newly drafted professional football players.
She is currently active in Alpha Kappa Alpha Sorority and her son's foundation that provides academic support for athletes at Baltimore's Patterson High School.