Michael E. Karam, F'72, L'76, L'81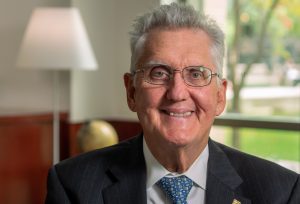 Michael Karam's arrival at Georgetown in September 1968 began a 54-year journey in the Jesuit tradition of being a man in service to others. From his years of formation at the School of Foreign Service and the Georgetown Law Center (GULC), to his meeting his wife, the late Linda J. Morgan, L'76, at GULC, to being married in 1977 at Dahlgren Chapel, to his years of alumni service at both the Main Campus and GULC, Georgetown has been the galvanizing foundation of his professional and personal life.
While at GULC, Michael developed a strong interest in tax law and lifetime friendships with legendary Professors Peter P. Weidenbruch and Paul R. Dean. Following graduation, Michael clerked at the United States Tax Court for, among others, former Chief Judge Howard Dawson. During clerkships, Michael also began work at GULC on a masters in tax, which he completed in 1981.
After his clerkship, Michael continued his public service, moving to the Tax Division, Department of Justice, in May 1978, where he began an almost 29-year career as a federal tax prosecutor. During his tenure, inter alia, Michael handled federal criminal tax cases at both the trial and appellate levels, developed tax enforcement policies, including primary responsibility for the tax chapter of the United States Sentencing Guidelines. created and published for 20 years a weekly Federal Tax Enforcement Newsletter for Tax Division prosecutors. For his service, he was recognized, inter alia, by the Department's Criminal Division for his work on the Federal Grand Jury Practice Manual, and by the Tax Division with the Barrister's Award for his work shepherding revisions to the Criminal Tax Manual.
Michael retired from federal service in 2006 to devote himself to further service to his alma mater. His GULC service includes the Law Board of Visitors, the Law Alumni Board, a law alumni admissions interviewer, and his Law Reunions.
Linda and Michael also made GULC the beneficiary of philanthropy generally to assist student financial aid. To honor Linda's memory, for his 40th Law Reunion in 2016, he established the Hon. Linda J. Morgan (L'76) Memorial Opportunity Scholarship Fund.
Michael's post-retirement engagement also included heightened involvement with the Alumni Association (GUAA) as a member of the GUAA Board of Governors and with the Athletic Department, where he has broadened his involvement from the Hoya Hoop Club to becoming an Executive Committee member of Hoyas Unlimited.
The thread of service imbued at Georgetown permeates Michael's public career and private life. Throughout his career, he was filled with pride whenever he would begin addressing a Court by stating: "My name is Michael Karam and I represent the United States of America." Similarly, he fills with pride whenever he meets someone and says: "I went to Georgetown!"