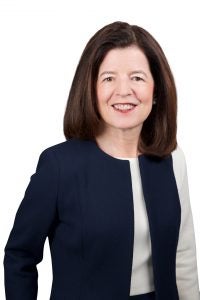 Sarah E. Cogan is a Retired Partner of Simpson Thacher & Bartlett LLP, where she was a member of the Firm's Corporate Department and Head of the Firm's Registered Funds Practice. She joined Simpson Thacher as an associate in 1981, became a partner in 1989 and retired at the end of 2018. Sarah advised clients on corporate and securities law, including investment management, regulatory, compliance and M&A matters. She also represented closed-end investment companies, open-end mutual funds, investment advisers and independent directors of investment companies, as well as a number of underwriters in offerings by closed-end funds and business development companies.
At Simpson Thacher, Sarah represented the Natural Resources Defense Council, Inc., a leading environmental organization, on a pro bono basis for many years and has served as a Trustee of NRDC since 2013. She is also a Director of the Girl Scouts of Greater New York and serves on the boards of a number of PIMCO and Virtus investment companies.
At Georgetown, Sarah has served on the Law Alumni Board and as National Chair of the Law Annual Fund. She is currently a member of the Georgetown Law Board of Visitors. In addition, Sarah was a 2012 recipient of Georgetown Law's Alumnae Award.
Sarah has a B.A. from Yale University and a J.D. from Georgetown. Sarah lives in New York City with her husband Douglas Evans in the apartment she grew up in. They have three adult children, all of whom went to Georgetown (Annie Evans, C '09, L '13 (married to David Hendrickson, C '07), Tommy Evans, C '12, and Lizzie Evans, C '18). Annie and Dave have almost 4-year-old twins.