Carbon Capture: Clearing Confusion and Calling Attention
October 19, 2023 by Sera Simpson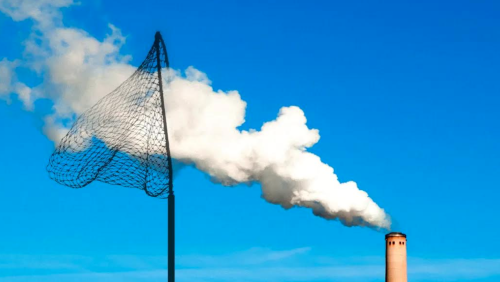 Carbon capture and storage is a complicated technology whose use and value confuses many. To address this confusion, this article explains the importance of carbon capture and provides solutions to support its development.
Carbon capture and storage is an area of confusion for many. In 2020, three-quarters of people polled had not heard of carbon dioxide removal methods.[1] To address this confusion, this article aims to explain the importance of carbon capture and provide context on available solutions to support this technology. It is important to dispel the confusion surrounding carbon capture because, as the Intergovernmental Panel on Climate Change acknowledged, carbon capture "will be necessary" to stabilize the climate and keep the world's average temperature below 1.5 degrees Celsius above pre-industrial times.[2] Carbon capture is especially needed to address emissions from heavy industry sectors like steel, cement, and chemicals, that don't currently have a viable alternative.[3] Despite this dire need for the development of this technology, carbon capture has not been valued at the same level as mitigating technologies such as solar and wind alternatives.[4]
For example, as of 2022, there were 190 carbon capture and storage projects being developed, whereas there are now over 6,500 large-scale solar projects currently underway.[5] One of the reasons for this could be that subsidies often support short-term projects like solar plants rather than long-term projects like carbon capture.[6] Furthermore, carbon capture and storage would require the development of a network of pipelines necessitating the dissolution of regulatory gaps in the United States.[7]
Another issue that complicates carbon capture and storage is that many countries are not properly situated to invest in or support this technology. The storage of carbon is especially complex because it is often stored in geologic formations that only certain countries have within their borders.[8] Countries that don't have a way to store the carbon dioxide they capture will have to either transport it to another country, which carries the risk of leakage or not participate in this sector of climate change avoidance at all.[9] If certain countries take on the responsibility of developing and implementing carbon capture and storage, countries not utilizing carbon capture technologies should support countries that are.
To solve some of the technology uptake issues, countries have implemented strategies to support the development of carbon dioxide removal methods. For example, the Netherlands is focusing its attention on a specific industry, the industrial sector, which accounts for 20% of its emissions.[10] By focusing its attention on one area, the Netherlands can perfect the carbon capture methodology within that sector. Other countries, like the United Kingdom, have started focusing more of their attention on carbon capture and making this an active part of their policy.[11] By doing so, the United Kingdom has come up with innovative ideas like using old oil and gas infrastructure to minimize the engineering and capital investments that carbon capture requires.[12] Taking the United Kingdom's lead, other countries could use pipelines previously used to transport gas for transporting carbon dioxide back into the ground.
While it is generally known that carbon capture and storage is needed to fully combat climate change, it is also widely accepted that this method should only be utilized after all other mitigation strategies have been used.[13] Although it is important to prioritize mitigation strategies like solar and wind, it is also necessary to support alternative methods, like carbon capture, in order to keep the global average temperature below 1.5 degrees Celsius above pre-industrial levels. Therefore, more attention should be brought to carbon capture and storage to support the development of this necessary tool. [14]
[1] Stephen Naimoli, Carbon Dioxide Removal Solutions, 1 Center for Strategic and International Studies (2021).
[2] Id.
[3] Joseph Dutton, Johanna Lehne & Chris Littlecott, EUROPEAN CCS: LEARNING FROM FAILURE OR FAILING TO LEARN?, 2 E3G (2020).
[4] Naimoli, supra note 1.
[5] Matt Steyn, Global Status of CCS 2022, 4 Global CCS Institute (2022); Major Solar Projects List, Solar Energy Industries Association (Sept. 2023),  https://www.seia.org/research-resources/major-solar-projects-list.
[6] Isabel Galiana & Christopher Green, CLIMATE CHANGE, TECHNOLOGY-LED MITIGATION, 2 Copenhagen Consensus Center (2012).
[7] Maria Cecilia Pinto de Moura, Low-Carbon Pathways for Transportation, 27 Union of Concerned Scientists (2022).
[8] Id. at 3.
[9] See Id.
[10] Dutton, supra note 3, at 6.
[11]  Id. at 5.
[12] Id.
[13] De Moura, supra note 7, at 28.
[14] Image Citation: James Temple, Carbon Removal Hype is Becoming a Dangerous Distraction, MIT Technology Review (July 2021), https://www.technologyreview.com/2021/07/08/1027908/carbon-removal-hype-is-a-dangerous-distraction-climate-change/.