Cruise Ship Crackdown: Federal Judge Demands More from Polluting Cruise Line Executives
October 31, 2019 by Trevor Herden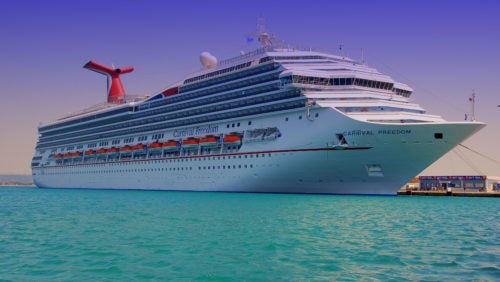 By Lauren Griffith, Staff Contributor
Cruise Ship Crackdown: Federal Judge Demands More from Polluting Cruise Line Executives
By Lauren Griffith
In 2018, 28.5 million people[1] set sail on one of the 314 cruise ships in the world. [2] However, most of these vacation-goers don't think about what happens to the waste produced by these "floating cities"?[3] Especially after what is known now about the largest cruise ship operator in the world, Carnival Corporation & plc ("Carnival"), maybe it's time that we all start to ask the question of what is truly happening to the waste created by cruise ships.[4]
In December of 2016, Princess Cruise Line, LTD. ("Princess") pled guilty[5] to a 2013 incident on one of its ship, the Caribbean Princess, utilizing a "so-called 'magic pipe'" to dispose of "oily bilge water" directly into the ocean.[6] Carnival owns and operates Princess as one of its' nine subsidiary cruise lines.[7] Oily bilge water is a mixture of oil, lubricants, and chemicals that accumulate in the lowest part of the ship through the normal operations of the machinery.[8] Normally, to discharge oily bilge water within U.S. navigable waters, the vessel is required to dilute the oil content to less than 15 ppm and utilize both an "oily water separator" to remove the oil from the mixture and a bilge alarm to ensure the oil content does not exceed the 15 ppm standard.[9] The Caribbean Princess, on the other hand, was found to have completely disregarded these standards when it was caught dumping 4,227 gallons of oily bilge water off the coast of England.[10] The Caribbean Princess had avoided detection since 2005 by regularly discharging the oily bilge in a way that avoided setting off the bilge alarm and not recording the discharge entries in their oil record book.[11] Similar illegal practices took place on four other Princess cruise ships during the relevant time period.[12] The federal judge presiding over the case, Judge Seitz, ordered Princess to pay a $40 million criminal penalty, the largest ever in a case like this.[13] Another part of the penalty included placing Carnival and its' subsidiaries that trade in the U.S. on probation for five years, and a mandate to implement an environmental compliance plan.[14]
In April of 2019, Carnival executives ended up in front of Judge Seitz after violating the terms of their 2016 parole.[15]  The parole violations included cleaning ships immediately before environmental audits, falsifying records, dumping plastic into the ocean, illegally discharging gray water into protected areas, and attempting to lobby the Coast Guard to alter the terms of their settlement.[16] Judge Seitz made her seriousness in the enforcement of Carnival's penalty known when she threatened to revoke docking rights of all Carnival owned cruise ships in U.S. ports and even stated that she "wished she could give all the members of the executive committee a visit to the detention center for a few days."[17] Carnival was ordered to pay $20 million for these new violations combined with Carnival's CEO accepting managerial responsibility for the probation violations, creating new compliance executive and board positions, potentially up to $10 million a day in penalties if they did not meet their corporate restructuring deadlines, fifteen additional self-funded environmental audits, new government reporting requirements, and to immediately change their plastic disposal procedures[18]
The most recent conference with Judge Seitz in October 2019, made it clear to the Carnival executives that they were not doing enough to fix ocean pollution problems.[19] Although during the same October proceeding both the Chairman and CEO of Carnival expressed that "it takes time to implement change at a [large] company."[20]
A realistic way to ensure faster compliance by Carnival is through their wallets, perhaps spurred by the secondary effects of more fines from Judge Seitz.[21] On October 20, 2019, Yahoo Finance reported that Carnival's stock price had decreased by 22.7% in the past six months.[22] Investment analysts reports have cited the latest $20 million penalty as one of several reasons for the sharp drop in Carnival's stock price and is no longer projected to exceed last year's earnings.[23] Carnival's next court ordered, environmental status conference is scheduled for December.[24] Based on the dissatisfaction already expressed by Judge Seitz, this could mean another large financial penalty before the end of 2019, causing the stock price to drop further.[25] One investment report reasoned that evidenced by the previous inaction demonstrated by Carnival executives to comply with the terms of the company's probation, it would be more economically efficient for Carnival to reserve an additional $20 million for new penalties that the company will likely receive by 2021.[26] Currently, the compensation of Carnival's CEO is largely tied to shareholder value and the financial success of the company, which may inadvertently encourage faster environmental compliance action by the CEO if it will decrease his earnings.[27]
Only time and concrete action by Carnival's executives will determine what the fate of the company will be. From what past proceedings have shown, Judge Seitz has made it clear that she is not afraid to "crack down" on those that purposefully pollute the environment and believes that meaningful change must start with the top.[28]
[1] 28.5 Million People Took a Cruise in 2018, The Maritime Executive, Apr. 9, 2019, https://www.maritime-executive.com/article/28-5-million-passengers-took-a-cruise-in-2018
[2]Cruise Market Watch, 2018 Worldwide Cruise Line Passenger Capacity (last accessed Oct. 22, 2019), https://cruisemarketwatch.com/capacity/.
[3] EPA, Cruise Ship Discharges and Studies (last accessed Oct. 13, 2019), https://www.epa.gov/vessels-marinas-and-ports/cruise-ship-discharges-and-studies.
[4]Carnival Corporation & plc, Mission & History (last accessed Oct. 22, 2019), http://phx.corporate-ir.net/phoenix.zhtml?c=200767&p=irol-history
[5] United States v. Princess Cruise Lines, Ltd., No. 16-20897-CR-SEITZ, at *1 (S.D. Fla. Dec. 1, 2016).
[6] Department of Justice, Cruise Line Ordered to Pay $40 Million for Illegal Dumping of Oil Contaminated Waste and Falsifying Records, Apr. 19, 2017 [hereinafter $40 Million Violation], https://www.justice.gov/opa/pr/cruise-line-ordered-pay-40-million-illegal-dumping-oil-contaminated-waste-and-falsifying.
[7] Carnival Corporation & plc, Our Brands (last accessed Oct. 28, 2019), http://phx.corporate-ir.net/phoenix.zhtml?c=200767&p=irol-products.
[8] EPA, Cruise Ship Discharge Assessment Report 103 (2008).
[9] 33 C.F.R. § 151.10
[10]  $40 Million Violation, supra note 6.
[11] Id.
[12] Id.
[13] Id.
[14] Id.
[15]  Taylor Dolven, Federal Judge Threatens to Temporarily Block Carnival Ships from Docking at U.S. Ports, Miami Herald, April 10, 2019 [hereinafter Dolven], https://www.miamiherald.com/news/business/tourism-cruises/article229069589.html.
[16] Id.
[17] Id.
[18] Department of Justice, Princess Cruise Lines and its Parent Company Plead Guilty to Environmental Probation Violations Ordered to Pay $20 Million Criminal Penalty, June 3, 2019 [hereinafter $20 Million Violation], https://www.justice.gov/opa/pr/princess-cruise-lines-and-its-parent-company-plead-guilty-environmental-probation-violations.
[19]Curt Anderson, Judge: Carnival Cruise Line Not Doing Enough to Clean Up Its Act After Pollution Conviction, USA Today, Oct. 3, 2019 [hereinafter USA Today], https://www.usatoday.com/story/travel/cruises/2019/10/03/carnival-cruise-line-not-doing-enough-to-clean-up-pollution/3850107002/.
[20] Id.
[21] See EPA, Basic Information on Enforcement (last accessed Oct. 28, 2019), https://www.epa.gov/enforcement/basic-information-enforcement (stating that penalties serve as a way to ensure environmental compliance and create compensation to correct noncompliance).
[22] Zacks Equity Research, Carnival Stock Down 23% in 6 Months: Will it Bounce Back?, Yahoo Finance, Oct. 10, 2019, https://finance.yahoo.com/news/carnival-stock-down-23-6-144002809.html.
[23] See Ann Skeet, Opinion: Shareholders Feel The Pain When Companies Take An Ethical Hit, Market Watch (June 20, 2019) https://www.marketwatch.com/story/shareholders-feel-the-pain-when-companies-take-an-ethical-hit-2019-06-20; Mark P, Carnival Stock Tumbles 7% as Problems Continue to Mount, Warrior Trading News (June 21, 2019) https://warriortradingnews.com/2019/06/21/carnival-stock-tumbles-7-as-problems-continue-to-mount/; Seeking Alpha, Sell Carnival And Don't Look Back, (June 10, 2019), https://seekingalpha.com/article/4269445-sell-carnival-look-back [hereinafter Seeking Alpha].
[24] USA Today, supra note 19.
[25] See generally $40 Million Violation, supra note 6; $20 Million Violation, supra note 18.
[26] Seeking Alpha, supra note 23.
[27] Carnival Corp., Notice of Annual Meetings of Shareholders and Proxy Statement (Form Def 14A), 42, 56 (Mar. 7, 2019), https://www.sec.gov/Archives/edgar/data/815097/000119312519066512/d680783ddef14a.htm#toc680783_20.
[28] See generally $40 Million Violation, supra note 6; $20 Million Violation, supra note 18.