GREENWASHING: The Beginning or End of an Era of Environmental Deception?
September 28, 2023 by Charlie Dwight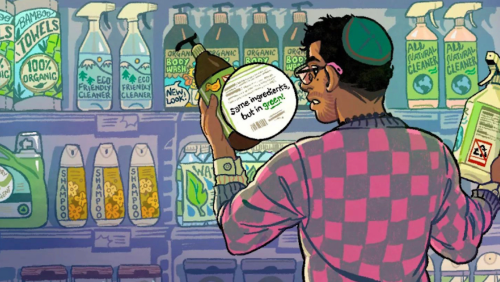 As American consumers focus more on how their consumption habits impact the environment, companies are seeking to capitalize by claiming their products are "green" even if these claims are dubious – a practice known as greenwashing. In this article, Charlie Dwight walks through the legal landscape of greenwashing and argues FTC and SEC enforcement would help crack down on the practice.
American consumers care more about being environmentally conscious now than ever before. A 2020 McKinsey survey of American consumers found that more than 60 percent of respondents said they would pay more for a product with sustainable packaging.[1] As the effects of man-made climate change have become more widely known and harshly felt over the past decade, people have grown more willing to act. But their desire to address the climate crisis may be pacified by the public statements of companies that wrongly claim to be fighting climate change – claims which, more and more, have allegedly fallen into the category of fraud.
In 2021, sixty percent of public communications from five major oil companies portrayed themselves as proactive on climate change, typically highlighting their support of or involvement with the transition to green energy.[2] Predictably, this figure overstates the oil companies' commitment to environmental causes: the organization InfluenceMap found that these same companies intended to devote only twelve percent of their expenditures in the coming year to "low carbon" activities.[3] Of course, these oil companies never explicitly claimed that they acted on climate issues exactly as much as they spoke about them. However, many other companies have "greenwashed" their products, claiming to be "eco-friendly," "carbon neutral," and "sustainable" on the back of dubious factual evidence. Nike and Delta Airlines have recently been sued for making precise but dubious claims about their products' environmental impact.
On May 10th, 2023, Ellis v. Nike USA, Inc., a class-action complaint, was filed against Nike alleging that Nike falsely and misleadingly represented their products as sustainable, made with sustainable materials, and environment friendly.[4] The plaintiff claims Nike violated Missouri's Merchandising Practices Act and committed unjust enrichment, negligent misrepresentation, and fraud.[5] Nike claims products in their "Sustainability" collection 'reduce waste,' support a 'Move to Zero carbon and zero waste,' and are environmentally friendly."[6] But this suit alleges that less than ten percent of those products are made with any recycled materials.[7] Instead, the collection predominantly uses plastic-based, non-biodegradable textiles like polyester and nylon.[8] These products require significant energy to extract and process, and they are a leading source of microplastic pollution.[9] Nike claims they are sustainable because they come from recycled polyester.[10] However, the suit alleges these materials degrade after each use and thus eventually end up in a landfill or worse – and they shed microplastics just like any other polyester product.[11] Nike filed a motion to dismiss this case on August 24th, 2023, and the case is currently pending.
On May 30th, 2023, Berrin v. Delta Airlines, Inc., a class-action lawsuit alleging misrepresentation on environmental claims, was filed against Delta Airlines. In advertisements, public comments by its executives, and even in-flight napkins, Delta has claimed it is "the world's first carbon-neutral airline."[12] However, this lawsuit alleges that Delta's carbon neutrality claim is demonstrably false.[13] Delta claims to have achieved carbon neutrality by purchasing "carbon credits" in an unregulated voluntary market.[14] A comprehensive journalistic investigation has revealed that 94% of the carbon credits issued by Verra, the company from which Delta purchased their credits, provided no benefit to the environment.[15] The case is currently pending a decision on Delta's motion to dismiss, which they filed on August 18th, 2023.
It is possible that a successful movement to eliminate or restrict corporate claims of sustainability creates genuine environmental change. Many consumers want to fight climate change, and if they know that they cannot do so by supporting corporations they may be motivated to act in a more productive fashion. In the absence of a total elimination of environmental standards, stricter standards may create genuine room for customers to be discerning with their purchases. The European Union passed a series of groundbreaking standards on September 19th, and the strength of America's standards is being decided at this very moment by the Securities and Exchange Commission and the Fair Trade Commission.
In March of 2022, the SEC proposed a broad series of new disclosure requirements, requiring public companies to disclose their direct greenhouse gas ("GHG") emissions and indirect GHG emissions from the purchase of energy.[16] If it is material, they must also disclose upstream and downstream emissions related to their products along the whole chain of commerce.[17] The Fair Trade Commission is also due to update their Green Guides, a publication that helps companies ensure they can avoid making environmentally deceptive claims but has not been updated since 2012.[18] They requested comments for the newest edition in December 2022.[19] They are expected to update these guidelines soon and have stated they intend to learn on the expansive, ambitious proposals of the European Union.[20] However, the extent to which they regulate climate-related disclosures depends on the SEC's climate disclosure requirements.[21] The FTC is expected to take little action outside of the Green Guides according to the law firm Latham & Watkins, making this revision of the Green Guides critical.[22]
On September 19th, 2023, the European Union finalized a groundbreaking new greenwashing law that bans all claims of emissions offsetting and requires greater evidence for descriptors like "eco" and "natural".[23] But progress in the United States will likely be more gradual. With the Green Guides being recognized as the fulcrum of American greenwashing policy but only updating once every five to ten years, it is unlikely that the United States will have another opportunity to address this fast-growing problem. "When I hear 'carbon neutral', I think you're not doing anything wrong, you're not hurting the environment in any way… That's what the words mean to any rational person: that we can participate in your business without any guilt" said Krikor Kouyoumdjian, a partner with the legal firm suing Delta Airlines for deceptive advertising.[24] If the FTC fails to take the most ambitious approach in combating greenwashing and deceptive advertising, rational people will continue to believe they are supporting the environment by consuming products laden with microplastics and financing the purchase of ineffective airline. The cases pending against Nike and Delta are some of the highest-profile actions against greenwashing, a practice that not only violates deceptive advertising laws but also preys upon people's guilt and fears over the generational issue of climate change. A win against greenwashing, either in the courts or in the offices of the SEC and FTC, would give the environmental movement significantly more power to stop big corporations from assuaging their guilt and shatter the illusion that these companies have a positive impact on our environment.
[1] Jordan Bar Am, Consumers care about sustainability—and back it up with their wallets, McKinsey & Company (Feb. 6, 2023), https://www.mckinsey.com/industries/consumer-packaged-goods/our-insights/consumers-care-about-sustainability-and-back-it-up-with-their-wallets.
[2] Big Oil's Real Agenda on Climate Change 2022, InfluenceMap (Sept. 2022), https://influencemap.org/report/Big-Oil-s-Agenda-on-Climate-Change-2022-19585.
[3] Id.
[4] Complaint, Ellis v. Nike USA, 4:23-cv-00632 (E.D. Mo. May 10, 2023). Ellis v. Nike USA, Inc., Sabin Center for Climate Change Law, https://climatecasechart.com/case/ellis-v-nike-usa-inc/.
[5] Ellis v. Nike USA, Inc., Sabin Center for Climate Change Law.
[6] Corrado Rizzi, Nike Hit with Class Action Over 'Greenwashed' Sustainability Claims, ClassAction.org (May 15, 2023), https://www.classaction.org/blog/nike-hit-with-class-action-over-greenwashed-sustainability-claims.
[7] Id.
[8] Id.
[9] Id.
[10] Id.
[11] Id.
[12] Patrick Greenfield, Delta Air Lines faces lawsuit over $1bn carbon neutrality claim, The Guardian (May 30, 2023), https://amp.theguardian.com/environment/2023/may/30/delta-air-lines-lawsuit-carbon-neutrality-aoe.
[13] Id.
[14] Id.
[15] Patrick Greenfield, Revealed: more than 90% of rainforest carbon offsets by biggest certifier are worthless, analysis shows, The Guardian (Jan. 18, 2023),  https://www.theguardian.com/environment/2023/jan/18/revealed-forest-carbon-offsets-biggest-provider-worthless-verra-aoe.
[16] A Review of the Reaction to the SEC's Climate-Related Disclosure Proposal and What Might Come Next, Baker Botts (Sept. 19, 2023), https://www.bakerbotts.com/thought-leadership/publications/2023/september/a-review-of-the-reaction-to-the-secs-climate-related-disclosure-proposal.
[17] Id.
[18] The Future of Green Marketing: Anticipated Changes to the FTC's Green Guide, Latham & Watkins (June 27, 2023), https://www.lw.com/admin/upload/SiteAttachments/The-Future-of-Green-Marketing-Anticipated-Changes-to-the-FTCs-Green-Guides.pdf.
[19] Id.
[20] Id.
[21] Id.
[22] Id.
[23] Nikolaus J. Kurmayer, EU reaches deal banning 'climate-neutral' product claims, Euractiv (Sept. 20, 2023), https://www.euractiv.com/section/energy-environment/news/eu-reaches-deal-banning-climate-neutral-product-claims/.
[24] Patrick Greenfield, Delta Air Lines faces lawsuit over $1bn carbon neutrality claim, The Guardian (May 30, 2023).