National Security vs. Climate Security: Who Wins?
July 10, 2023 by Avi Wolasky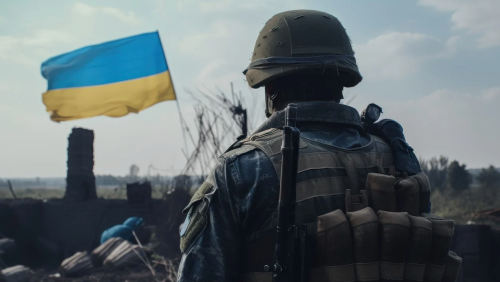 The Russian invasion of Ukraine has caused devastating turmoil. Thousands of Ukrainian civilians are dead and millions more have become refugees.[1] Civilians remaining in Ukraine lack consistent access to food, water, and other essential supplies.[2] Globally, the war continues to disrupt the markets and supply chains. Specifically, Russia's curtailment of its natural gas supply to Europe along with sanctions against Russian oil have sparked a global energy crisis. Up until this point, Russia had been the world's largest exporter of fossil fuels.[3] The U.S., EU, and others have limited the price Russia can sell its oil in an effort to ban or phase out imports of Russian oil and dent the Kremlin's war chest.[4] In response, Russia banned selling its oil to countries that participated in the price cap.[5] Putin's goal is to create an energy shortfall, leading to a scramble for additional supply, thereby splintering the coalition's support for Ukraine.[6] As a result, there is now an unprecedented amount of uncertainty regarding the supply of oil.[7] Energy bills in the United Kingdom and throughout Europe have reached record highs, and businesses just beginning to overcome pandemic-related challenges are once again in survival mode due to the skyrocketing energy costs.[8]
Against this backdrop, challenging questions are being presented in a world that hopes to reach net-zero emissions,  a pledge by over 70 countries to cut greenhouse gas emissions to as close to zero as possible by 2050.[9] Until now, Russia had supplied about 27% of Europe's oil and 41% of its gas.[10] Eliminating this depot also eliminates the incentives and structures upon which global energy policy was based. What used to be a market based on economic efficiency is now a market based on politics and war. The potential loss of a rule-based international system is truly unprecedented; even during the height of the cold war, Russian oil and gas kept on flowing.[11] Today's energy shortage complicates global climate efforts, putting the world at a crossroads. On the one hand, it creates a fresh impetus for investment in alternative energy. Transitioning to cleaner fuels such as renewable energy would simultaneously help counter climate change and limit the world's reliance on Russian oil. On the other hand, high energy prices also incentivize more companies to double down on fossil fuel exploration. Many energy companies also lost huge sums of money from their divestment from Russia. In the short term, these companies may decide to further invest in fossil fuel exploitation outside of Russia during this period of high energy prices to balance losses incurred during their divestment from Russia. This move would also be effective in seeking energy independence from Moscow while complicating climate goals.
Recently, the International Energy Agency (IEA) published its new "Energy Outlook" which took up the difficult questions posed in the wake of Russia's war in Ukraine and the goal to reach zero-net impact by 2050.[12] Specifically, the IEA evaluated whether the need to replace the immediate fossil fuel shortages created a circumstance requiring investment in new oil and gas fields, despite complicating the global climate goals.[13]
The IEA determined that investment in new oil and gas fields is not the solution to alleviate the energy crisis because these investments would not produce meaningful volumes of oil and gas for years.[14] Instead, suitable investments with short lead times and quicker payback periods do exist, including extending production from existing oil and gas fields and natural gas that would typically be flared and vented (which can be brought to the market quickly).[15] The IEA found investment in "some new infrastructure" to diversify away from Russian supply may be warranted, but it limited these new investments to "import terminals" that would facilitate fuel imports.[16]
Driving home the IEA's analysis was the understanding that the world "is united in its determination to achieve the 1.5 °C goal, and that is working consistently and cooperatively towards that goal."[17] The agency noted that the net-zero goal carries a few conditions that must become a reality for it to be achieved. First, there must be a sharp decline in fossil fuel demand, which relies on energy producers and citizens changing their behavior, likely incentivized through policy.[18] Further, there would have to be an increased reliance on a smaller concentration of existing fossil fuel suppliers.[19] Specifically, OPEC member countries will be counted on to increase their production from supplying 35% of the oil market in 2021 to 52% in 2050.[20]
Ultimately, the IEA concluded its discussion by emphasizing that the disruption to the energy market caused by Russia and the necessary reevaluation of how the world would meet its energy needs should not distract from the broader forward-looking goal: the need for a massive surge in investment in renewables, energy efficiency, and other clean energy technologies.[21] Only if these necessary clean energy investments are made will the world be able to move past the energy crisis without investing in new oil and gas infrastructure.[22] "No one should imagine that Russia's invasion can justify a wave of new oil and gas infrastructure in a world that wants to reach net-zero emissions by 2050," the IEA said.[23] According to the IEA, short-term fixes to the energy crisis involving new fossil fuel and natural gas projects, while tempting, have unacceptable consequences for future generations, especially when alternative measures exist that are in line with the net-zero framework.[24] The IEA does not view the global energy crisis caused by Russia's invasion of Ukraine as a roadblock to sustainability efforts. Rather, it views the energy crisis as a "historic turning point towards a cleaner and more secure energy system," and the catalyst for European nations and others to build more renewable energy capacity within their borders.[25]
Although the IEA statement presents a resilient and optimistic view of the current energy crisis, its view, and the assumptions upon which it rests, present two major difficulties. First, there are too many flaws within the net-zero emissions agenda to rely on it with any real strength to help overcome the current crisis. Second, the IEA's rosy outlook ignores some of the realities on the ground, as exemplified by the actions of countries and businesses continuing to invest in fossil fuels.
The IEA acknowledges that its "no new drilling" conclusions are based on an increased reliance on OPEC members to supply the oil lost from the Russian import bans. However, OPEC members have a history of bad behavior and unreliability. Just months before Russia's invasion of Ukraine, OPEC and its oil-producing partners denied President Biden's request to increase oil production amidst rising fuel prices.[26] This denial caused European countries to increasingly rely on Russia and its Nord Stream 2 Gas Pipeline to meet the continent's energy demand.[27] Russia's increased influence and leverage following OPEC's response greatly contributed to the untenable geo-economic position the U.S. and the world found themselves in after Russia's invasion.
OPEC again refused to cooperate with the U.S. upon the onset of the global energy crisis, promising deep output cuts instead of ramping up production to fill Russia's void.[28] Ostensibly, OPEC claimed that the cuts were intended to bring "security [and] stability to the energy markets," which were thrown into volatility by the Covid-19 pandemic.[29] However, experts called the move a selfish attempt by the oil-producing nations to capitalize on an already-tight oil supply, increasing market volatility.[30] In light of OPEC's decision, the White House put out a statement that they will "consult with Congress on additional tools and authorities to reduce OPEC's control over energy prices."[31] The White House also said the move is evidence that "OPEC is aligning itself with Russia."[32] That hardly seems like a vote of confidence for the bloc that the world is counting on to achieve the goal of net-zero emissions.
Another issue with the IEA's report rests with its optimistic reliance on the net-zero emission framework. Put simply, the pledges made by countries and companies to achieve net-zero emissions are vague and hard to enforce. A U.N. group underscored this point by recommending stricter rules governing the net-zero greenhouse-gas emissions promises.[33] United Nations Secretary-General António Guterres said in a statement that "a growing number of governments and non-state actors are pledging to be carbon-free—and that's good news. The problem is that the criteria and benchmarks for these net-zero commitments have varying levels of rigor and loopholes wide enough to drive a diesel truck through."[34] Further, of the 193 signatory countries to the Paris Agreement, only 24 of them updated their climate action plans since meeting last November.[35]
Past the faulty framework, net-zero ambitions also rely on curbing human behavior to intake fewer fossil fuels. As acknowledged by the IEA, steep reductions in fossil fuel demand are a condition precedent for an effective net-zero emissions roadmap.[36] Yet questions remain about whether people are willing to shift their lifestyles and spending patterns to be in line with their climate change ambitions.[37] It is quite telling that many countries with net-zero targets have not yet made them legally binding.[38] Net-zero aspirations must provide stronger enforcement mechanisms to justify hinging the entire response to this energy crisis on its existence.
Finally, the real-time response to the energy crisis is not in line with the IEA's idealistic vision. While much of the IEA's report says that clean energy could and should be used over fossil fuels to deal with the shortage, that intention does not reflect reality. In Europe's first winter without Russian energy, the continent burnt more coal than it has in years.[39] For example, in just the first two weeks of December, Germany generated 49% more power with coal than it had in the same period a year ago.[40] In Poland, citizens were encouraged to "burn whatever was necessary to keep warm, except for tires."[41] Because gas is prohibitively expensive, European nations have encouraged utilities to revive their coal plants and other environmentally hazardous energy sources to survive the frigid winter.
The trend of energy security trumping climate goals can also be seen in the corporate world. Shareholder support for environmental and social issues fell an average of 5% from last year.[42] According to Mark van Baal, founder of a shareholder advocacy group that filed two failed climate resolutions urging oil giant Chevron to adopt emission targets in line with the Paris Agreement, the meager support for the resolutions reflects the overall feeling from investors that focusing on the limiting the economic fallout from Russia's invasion of Ukraine is more important than countering the climate crisis.[43] Therefore, the IEA's analysis that there is no need for new fossil fuel supplies as they would not help meet the needs of the immediate energy supply goes against the grain of what many countries and oil and gas companies are doing and planning.
The world must make major decisions following Russia's invasion of Ukraine and the ensuing energy crisis. The need to counter rising energy prices makes adhering to climate goals exceedingly difficult. Agencies such as the IEA believe that the crisis can be solved by doubling down on clean energy. This view, however, rests on the assumption that net-zero presents a framework that will not require new investments in fossil fuel supplies and that countries are in fact acting out their net-zero pledges to reduce demand for fossil fuels. As demonstrated, both assumptions are flawed. Relying on OPEC member states to meet remaining oil demand until 2050 is extremely risky; net-zero pledges are proving to be ineffective means of dictating behavior; and the prevailing attitude exemplifies prioritizing national and market security over climate security. For these reasons, short-term investments in fossil fuels to stabilize the market and ensure Russia does not gain the upper hand in the energy crisis may be worth exploring. While the investments will not entirely be in line with net-zero ambitions, they can serve to counter the more drastic measures countries are taking to keep their lights on and help the world approach climate goals with more steadiness, predictiveness, and confidence.
[1] Ukraine war: What are the impacts on the world today? International Rescue Committee (Aug. 23, 2022), https://www.rescue.org/article/ukraine-war-what-are-impacts-world-today.
[2] Id.
[3] International Energy Agency (IEA), World Energy Outlook 2022 (2022), at 88. https://iea.blob.core.windows.net/assets/830fe099-5530-48f2-a7c1-11f35d510983/WorldEnergyOutlook2022.pdf.
[4] Ann Simmons, Andrew Duehren, & David Uberti, Russia Bans Sales of Oil to Countries Imposing Price Cap, The Wall Street Journal (Dec. 27, 2022), https://www.wsj.com/articles/kremlin-bans-sales-of-russian-oil-to-countries-that-impose-price-cap-11672161766?mod=hp_lead_pos1.
[5] Id.
[6] Daniel Yergin, Putin Can't Count on the Global Oil Market, The Wall Street Journal (Dec. 26, 2022), https://www.wsj.com/articles/putin-cant-count-on-the-global-oil-market-price-cap-revenue-production-cut-friedman-biden-eu-russia-energy-11672065849?mod=Searchresults_pos14&page=2.
[7] Id.
[8] Trefor Moss, U.K. Companies Tested by Fallout From Ukraine War, The Wall Street Journal (Dec. 19, 2022), https://www.wsj.com/articles/u-k-companies-tested-by-fallout-from-ukraine-war-11671420773?mod=Searchresults_pos17&page=1.
[9] Net-zero Coalition, United Nations, https://www.un.org/en/climatechange/net-zero-coalition (last visited Jan. 16, 2023).
[10] Dieter Holger & Giulia Petroni, What Does Big Oil's Russia Exit Mean for Climate Change?, The Wall Street Journal (March 4, 2022), https://www.wsj.com/articles/what-does-big-oils-russia-exit-mean-for-climate-change-11646416588.
[11] David Uberti & Joe Wallace, Oil Market Was Splintered in 2022 by Russia's Invasion of Ukraine, The Wall Street Journal (Dec. 29, 2022), https://www.wsj.com/articles/oil-market-was-splintered-in-2022-by-russias-invasion-of-ukraine-11672296100?mod=Searchresults_pos3&page=1.
[12] IEA, Supra note 3.
[13] Id.
[14] Id. at 79, 88.
[15] Id. at 79-80 (stating that "fossil fuel demand can be met through continued investment in existing assets and already approved projects, but without any new long lead time upstream conventional projects").
[16] Id.
[17] Id. at 79.
[18] Id. at 79-80.
[19] Id. at 80.
[20] Id.
[21] Id.
[22] Id.
[23] Id.
[24] Id. at 81.
[25] Id. at 3.
[26] Ariel Cohen, OPEC Says To Biden: If You Want More Oil, Pump It Yourself, Forbes (Nov. 9, 2021), https://www.forbes.com/sites/arielcohen/2021/11/09/opec-says-to-biden-if-you-want-more-oil-pump-it-yourself/?sh=506214c53efd.
[27] Id.
[28] Sam Meredith, OPEC+ to cut oil production by 2 million barrels per day to shore up prices, defying U.S. pressure, CNBC (Oct. 6, 2022), https://www.cnbc.com/2022/10/05/oil-opec-imposes-deep-production-cuts-in-a-bid-to-shore-up-prices.html.
[29] AP Archive, OPEC+ makes big oil cut to boost prices, YouTube (Oct. 5, 2022), https://www.youtube.com/watch?v=t909AzkK7aI.
[30] Meredith, Supra note 28.
[31] Statement, The White House, Statement from National Security Advisor Jake Sullivan and NEC Director Brian Deese (Oct. 5, 2022), https://www.whitehouse.gov/briefing-room/statements-releases/2022/10/05/statement-from-national-security-advisor-jake-sullivan-and-nec-director-brian-deese/.
[32] The White House, 10/11/22: Press Briefing by Press Secretary Karine Jean-Pierre, YouTube (Oct. 11, 2022), https://www.youtube.com/watch?v=yq7WR7gIYhM.
[33] Dieter Holger, U.N. Group Recommends Stricter Rules Over Net-Zero Pledges, The Wall Street Journal (Nov. 8, 2022), https://www.wsj.com/articles/u-n-group-recommends-stricter-rules-over-net-zero-pledges-11667938991.
[34] United Nations, Net-Zero Commitments – UN chief: "loopholes wide enough to drive a diesel truck through" | #COP27, YouTube (Nov. 8, 2022), https://www.youtube.com/watch?v=yq7WR7gIYhM.
[35] David Iaconangelo, IEA: Russia's war in Ukraine won't save fossil fuels, Energywire (Oct. 27, 2022), https://www.eenews.net/articles/iea-russias-war-in-ukraine-wont-save-fossil-fuels/#:~:text=The%20Russian%20invasion%20of%20Ukraine,International%20Energy%20Agency%20said%20Thursday.
[36] IEA, Supra note 3, at 80.
[37] Rahul Tongia, Net zero carbon pledges have good intentions. But they are not enough, The Brookings Institution (Oct. 25, 2021), https://www.brookings.edu/blog/planetpolicy/2021/10/25/net-zero-carbon-pledges-have-good-intentions-but-they-are-not-enough/.
[38] Courtney Lindwall, The Promise and Pitfalls of Net-Zero Pledges, NRDC (Feb. 3, 2022), https://www.nrdc.org/stories/promise-and-pitfalls-net-zero-pledges.
[39] Joe Wallace, Coal, No Longer Shunned, Keeps Europe's Lights on Through Frigid Weather, The Wall Street Journal (Dec. 22, 2022), https://www.wsj.com/articles/coal-no-longer-shunned-keeps-europes-lights-on-through-frigid-weather-11671705322?mod=Searchresults_pos7&page=1.
[40] Id.
[41] Id.
[42] Dieter Holger, Investors Balk at Tough Climate Proposals: 2022 Proxy Voting Roundup, The Wall Street Journal (June 22, 2022), https://www.wsj.com/articles/investors-balk-at-tough-climate-proposals-2022-proxy-voting-roundup-11655892000.
[43] Id.