Renewable Energy Framed as the Culprit of Texas Blackouts
April 20, 2021 by Lawrence Corbeille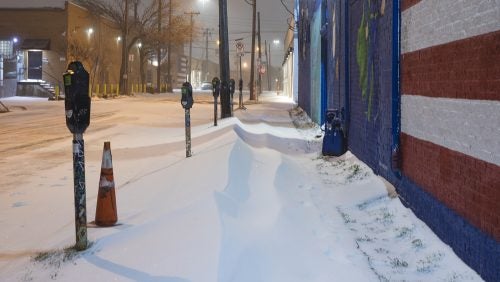 By Blake Ellis, Staff Contributor
In February 2021, the state of Texas experienced unprecedented power outages caused by severe winter storms. Conservative politicians and media were quick to blame the use of renewable energy as the culprit of the outages. The facts present a different explanation.
Background
As a result of a jet stream dipping unusually far south, Texas experienced severe winter storms, causing unprecedented power outages across the state. The storms created record-low temperatures that led to state-wide spikes in energy demand, overwhelming the power grid. When the outages peaked, approximately 4.5 million people lost power for several days.[1]
Conservative politicians and pundits quickly blamed this disaster on Texas's renewable energy infrastructure.
Tucker Carlson of Fox News asserted, "The windmills froze, so the power grids failed. It seems pretty clear that a reckless reliance on windmills is the cause of this disaster."[2]
Texas Governor Greg Abbott claimed, "It just shows that fossil fuel is necessary for the state of Texas as well as other states to make sure we will be able to heat our homes in the winter times and cool our homes in the summertime."[3]
These claims and others like them have spread throughout conservative media as many look to use renewable energy sources as a scapegoat for this disaster. However, an analysis of the energy sources that went offline indicates a different problem.
Fact Checking
According to the Electrical Reliability Council of Texas (ERCOT), while approximately 45,000 megawatts of power went offline, only 16,000 were from renewable sources.[4] The other 30,000 megawatts went offline as a result of failures from thermal sources such as natural gas, coal, and nuclear plants.[5] Texas relies on wind energy for less than one-fifth of its total generating capacity,[6] and ERCOT confirmed that wellhead freeze-offs and other issues curtailing supply in natural gas systems were primarily to blame for the outages.[7] "All types of generation have had issues," said Joshua Rhodes, a research assistant at the University of Texas at Austin's Webber Energy Group.[8] Rhodes emphasized that the entire Texas power grid is designed to meet peak demand in the summer, when air conditioners all kick in at once – it is not designed for high demand in winter.[9]
Republicans' claims that renewable energy is less reliable than other energy sources are unsubstantiated. For example, wind turbines are capable of generating power in freezing temperatures if properly weatherized.[10] Because Texas rarely experiences freezing temperatures, energy producers haven't invested in weatherizing their equipment.[11] Patrick Milligan, a manager and power expert at the consulting firm ICF, said that "Weatherization is expensive. Plus, Texas' energy market is deregulated, and suppliers there try to produce energy as cheaply as possible. The generators are not really incentivized to undertake … weatherization investments."[12] Because of the fairly predictable weather in Texas, energy producers have cut corners when it comes to weatherization and preparedness. However, as a result of climate change, unpredictable and extreme weather events will continue.[13]
Big Picture
Although climate change raises average global temperatures and winters are becoming milder and shorter, we have still seen an increase in intense snowstorms and record-breaking frost.[14] Scientists believe that the rapidly warming Arctic is weakening the jet stream and causing disruptions of the polar vortex, which may lead to more freezing cold air moving south.[15]
Renewable energy has become a popular scapegoat for power failures as extreme weather increasingly strains our energy infrastructure across the country.[16] As the climate changes, extreme weather events become more frequent. "I think the key point here is that we need to be prepared for these extreme events, today and in the future, no matter what the generation sources are," said Lori Bird, director of the U.S. energy program at the World Resources Institute.[17]"Blaming wind and solar is a political move. What is really needed in Texas and elsewhere, is better preparation."[18]States like Texas need to do their best to be more prepared and flexible, which means more energy sources, not less.
[1] Stelloh et al., Millions in Texas without power as deadly storm brings snow, freezing weather, NBC News (Feb. 16, 2021), https://www.nbcnews.com/news/weather/knocked-out-texas-millions-face-record-lows-without-power-new-n1257964.
[2] Tucker Carlson, The Great Texas Climate Catastrophe is Heading Your Way, Fox News (Feb. 15, 2021), https://www.foxnews.com/opinion/tucker-carlson-texas-green-new-deal-climate-catastrophe.
[3] Relman & Jones, Fox News Aired Bizarre and Wildly Misleading Claims about Texas' Blackouts that Pin Blame on Renewables and Climate Policies, Business Insider (Feb. 18, 2021), https://www.businessinsider.com/fact-check-fox-personalities-make-false-claims-about-texas-blackouts-2021-2.
[4] Ali Swenson & Arijeta Lajka, Texas Blackouts Fuel False Claims about Renewable Energy, Associated Press (Feb. 17, 2021), https://apnews.com/article/false-claims-texas-blackout-wind-turbine-f9e24976e9723021bec21f9a68afe927.
[5] Id.
[6] U.S. Energy Info. Admin, Electric Power Monthly, Tables 1.3.B, 1.14.B, 6.2.A, 6.2.B (February 2020).
[7] Swenson & Lajka, supra note 4.
[8] Camila Domonoske, No, The Blackouts in Texas Weren't Caused By Renewables. Here's What Really Happened, National Public Radio (Feb. 18, 2021), https://www.npr.org/sections/live-updates-winter-storms-2021/2021/02/18/968967137/no-the-blackouts-in-texas-werent-caused-by-renewables-heres-what-really-happened.
[9] Id.
[10] Relman and Jones, supra note 3.
[11] Id.
[12] Benji Jones, Texas Blackouts Explained: Artic Weather Shut Down Power Plants as Demand for Heat Surged, and the State's Grid is on its Own, Business Insider (Feb. 18, 2021), https://www.businessinsider.com/texas-blackouts-millions-lost-power-in-storm-went-wrong-2021-2.
[13] Roz Pidcock & Robert McSweeney, Mapped: How Climate Change Effects Extreme Weather Around the World, Climate Brief (Feb. 25, 2021), https://www.carbonbrief.org/mapped-how-climate-change-affects-extreme-weather-around-the-world.
[14] How Climate Change Is Fueling Extreme Weather, Earth Justice (Feb. 17, 2021), https://earthjustice.org/features/how-climate-change-is-fueling-extreme-weather.
[15] Id.
[16] Swenson & Lajka, supra note 4.
[17] Domonoske, supra note 8.
[18] Id.