The Biden Administration's Stopgap Immigration Reform Leaves the United States Unprepared for Climate Refugees
April 30, 2022 by Eric Dolce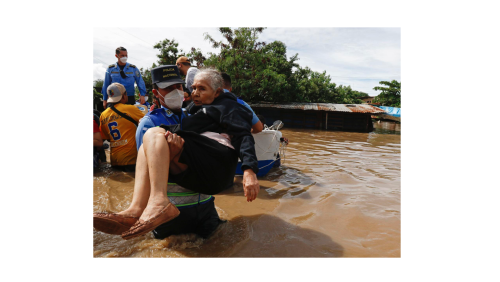 Spring 2022 has brought big changes to America's asylum system. On April 1st, President Joe Biden ended the controversial rule known as "Title 42" through which the Department of Homeland Security has expelled thousands of asylum seekers who crossed the southern border.[1] This change comes just one week after the Biden administration implemented new rules which would allow many asylum seekers to apply for asylum affirmatively. Affirmative asylum applicants pass through a non-adversarial asylum interview in lieu of a hearing before an immigration judge—giving United States Citizenship and Immigration Services (USCIS) the opportunity to ease pressure on the overburdened immigration courts.[2]
Change was much needed and long overdue. Immigration courts face an intractable crisis in the form of a growing backlog of over 1.6 million cases as of 2022.[3] Much like the immigration courts, USCIS faces a backlog of affirmative asylum applications numbering in the hundreds of thousands.[4] The Trump administration's strict immigration policy contributed to the problem. During the Trump years, nine in ten asylum officers were reassigned from their usual duties (reviewing asylum applications) to expedited removal proceedings.[5] Predictably, the result was an exponential increase in wait times. Some applicants have waited years for a hearing which, by statute, must be scheduled within 45 days.[6]
The Biden Administration's newly minted rules, along with its plan to hire an additional 800 asylum officers,[7] will help. However, these changes are unlikely to reverse the long-term trend of growing wait times and skyrocketing caseloads. DHS encounters thousands of migrants attempting to cross the southern border each day. Earlier this week, a DHS official predicted that President Biden's decision to end Title 42's automatic expulsions would grow that number to over 18,000 encounters per day.[8]
Increasing gang violence, economic slowdowns, and the COVID-19 pandemic have all contributed to the massive growth in the number of asylum seekers in the past decade.[9] However, U.S. officials and policymakers have, either willfully or negligently, ignored a major cause of migration: climate change. Climate change will over time result in droughts, storms, floods, and fires of increasing frequency and intensity. Developing countries will be particularly affected.[10] In 2020 alone, hurricanes and other natural disasters displaced upwards of nine million people in Central America.[11]
All this is to say that the United States must prepare for an ever-increasing number of climate refugees. Moreover, draconian, deportation-focused immigration policy does not offer a viable path through the coming crisis. European anti-immigrant chauvinism has done little to deter migrants, but has instead contributed to a humanitarian disaster.[12] As author David Foster Wallace explained, "A trapped person will eventually jump from the window of a burning high-rise… You'd have to have personally been trapped and felt flames to really understand a terror way beyond falling."[13]
Mindful of recent European experience, the United States must offer a safe, efficient, and attainable path to lawful residence for climate refugees. Unfortunately, climate change related displacement is not currently considered an acceptable justification for asylum under U.S. law. This must change. Asylum is currently only available to those who fall within the narrow statutory definition of "refugee."[14] A refugee is one who is "outside of any country of such person's nationality…because of persecution or a well-founded fear of persecution on account of race, religion, nationality, membership in a particular social group, or political opinion."[15] This definition puts an emphasis on political persecution, which of course does not leave room for asylum seekers who have been displaced as a result of a changing climate.
Climate change is not going away, and Congress cannot continue to ignore the growing population of climate refugees. New legislation is necessary to redefine refugees for the modern era, with due regard given to the profound effects of climate change on human migration. In addition, President Biden must join his immigration reform agenda with a plan to reduce climate related displacement. This will require foreign investment in adaptation and mitigation projects in Central America and beyond. The difficulties that the American immigration system currently face offer an opportunity for meaningful reform. The Biden Administration must seize this opportunity if the United States is to be ready for an inevitable climate migration crisis.
[1] Laurel Wamsley, The U.S. is ending its pandemic border rules. It could mean a surge in migration, N.P.R. (Apr. 1, 2022), https://www.npr.org/2022/04/01/1089690477/cdc-pandemic-border-rules-migration-dhs.
[2] Eileen Sullivan, Biden Administration Prepares Sweeping Change to Asylum Process, N.Y. Times (Mar. 24, 2022), https://www.nytimes.com/2022/03/24/us/politics/us-asylum-changes.html.
[3] Jasmine Aguilera, A Record Breaking 1.6 Million People Are Now Mired in U.S. Immigration Court Backlogs, Time (Jan. 20, 2022), https://time.com/6140280/immigration-court-backlog/.
[4] U.S. Citizenship and Immigr. Serv., Fiscal Year 2021 Report to Congress: Backlog Reduction of Pending Affirmative Asylum Cases (Oct. 20, 2021).
[5] Protection Postponed: Asylum Office Backlogs Cause Suffering, Separate Families, and Undermine Immigration, Human Rights First (Apr. 2021).
[6] Id.; See also, INA § 208(d)(5)(A)(ii) & (iii).
[7] Amy Taxin, Elliot Spagat, New rules from Biden administration aim to decide U.S. asylum cases more quickly, PBS (Mar. 24, 2022) https://www.pbs.org/newshour/politics/new-rules-from-biden-administration-aim-to-decide-u-s-asylum-cases-more-quickly.
[8] Joel Rose, DHS officials brace for a new surge at the border if pandemic restrictions are lifted, N.P.R. (Mar. 29, 2022), https://www.npr.org/2022/03/29/1089551424/dhs-officials-brace-for-a-new-surge-at-the-border-if-pandemic-restrictions-are-l
[9] Julia G. Young, The Situation at the U.S. Mexico Border Can't Be 'Solved' Without Acknowledging Its Origins, Time (Mar. 31, 2021), https://time.com/5951532/migration-factors/.
[10] Org. for Econ. Co-Operation and Dev., Poverty and Climate Change: Reducing the Vulnerability of the Poor Through Adaptation.
[11] Zoe Carpenter, Climate Change Will Force Us to Rethink Migration and Asylum, Scientific American, (Apr. 22, 2021), https://www.scientificamerican.com/article/climate-change-will-force-us-to-rethink-migration-and-asylum/; Giovanni Russonello, What's Driving the Surge at the Southern Border? N.Y. Times (Apr. 5, 2021), https://www.nytimes.com/2021/04/05/us/politics/biden-immigration-crisis.html?smtyp=cur&smid=tw-nytimes.
[12] Shipwrecked refugee crossings leave 164 dead in Mediterranean, says UN, The Guardian (Dec. 21, 2021), https://www.theguardian.com/world/2021/dec/21/shipwrecked-migrant-crossings-leave-164-dead-in-mediterranean-says-un#:~:text=Shipwrecked%20refugee%20crossings%20leave%20164%20dead%20in%20Mediterranean%2C%20says%20UN,-This%20article%20is&text=More%20than%20160%20people%20drowned,a%20better%20life%20in%20Europe.
[13] David F. Wallace, Infinite Jest (Michael Pietsch, ed., 1996).
[14] 8 U.S.C. § 1158(1)(A).
[15] 8 U.S.C. § 1101(42)(A).