The Declaration of a National Emergency—More Like a National Emergency for the Environment
February 21, 2019 by Sang Koo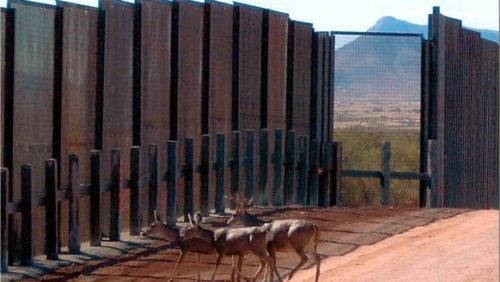 By Alexandra Kustra, Staff Contributor
On February 15, 2019, President Trump declared a national emergency in order to secure funds to construct a border wall on the Mexican-American border.[i] The President claims the wall will prevent illegal immigrants from entering the United States, and it would reduce crime in our country.[ii] Individuals have asked: Is this really a national emergency? Past presidents have declared national emergencies but not like this one.[iii] To support his emergency declaration, President Trump asserts that there is an "invasion of drugs, invasion of gangs, and an invasion of people."[iv] States and members of Congress are claiming there are a lot of constitutional issues in this declaration.[v] However, there are also environmental concerns the country faces with the construction of a border-wall.[vi]
Sixty-two endangered species are at risk of local extinction[vii] because the border-wall will prevent them from roaming around in search of food, water, and mates.[viii] The fencing will also prevent animals from escaping during wild fires and floods.[ix] There are 346 species that would be limited from accessing half of their habitats due to the border wall.[x] The pygmy owl and the Quino checkerspot butterfly enjoy rides close to the currents and ground, and the border wall would impede their flying abilities.[xi]
Furthermore, the concrete material used in constructing the wall allows carbon dioxide emissions to be released into the air which poses an adverse impact on human health.[xii] Carbon dioxide emissions decrease the amount of oxygen in the atmosphere and as a result, making it harder for people to breathe.[xiii] The emissions can also lead to headaches and other harmful air pollutants such as volatile organic compounds which contribute to indoor air pollution.[xiv]
In 1996, Congress enacted the Illegal Immigration Reform and the Immigrant Responsibility Act where the Attorney General can waive the Endangered Species Act of 1973 and the National Environmental Policy Act of 1969 to install a border wall to prevent illegal entry into the country.[xv] In 2005, however, the act was amended to transfer the authority from the Attorney General to the Secretary of Homeland Security subject to district court review for solely constitutional claims.[xvi] States have procedural rights and quasi-sovereign interests in protecting their natural resources.[xvii] Plaintiffs Defenders of Wildlife, Sierra Club and Animal League Defense Fund have filed suits against DHS and the United States for constitutional violations.[xviii] California provided declarations from experts detailing possible harm to the Tijuana Estuary and its endangered species.[xix] But plaintiffs did not prevail.[xx] The court found that defendants did not violate the non-delegation doctrine or separation of powers principles, the Take Care Clause, Articles—Sections 2 and 3, the Presentment Clause, or the Tenth Amendment.[xxi] However, the American people are unwilling to throw in the towel on this contentious issue.
Building the border wall will result in people losing their homes[xxii] and farmers losing their land due to eminent domain,[xxiii] which allows the government to seize your land for public use.[xxiv] Individuals in Rio Grande City, Texas, have received letters from the government for surveys, soil tests, equipment storage and other actions.[xxv] This is all part of a first step of the government seizing land under the doctrine of eminent domain.[xxvi] There have been other court battles since the Bush administration due to eminent domain which are still pending in court.[xxvii] Residents of the Rio Grande Valley feel they do not have a choice because if they do not sign the paperwork, the government will take their land anyway.[xxviii]
Currently, thirteen states are filing lawsuits challenging the President's national emergency declaration.[xxix] The President admits there is no crisis at the border, but he is willing to take the case to the Supreme Court in hopes of obtaining a ruling in his favor.[xxx] We will have to wait and see if the Court issues new precedent.
[i] Sean Illing, Trump Declared a National Emergency at the Border. I Asked 11 Experts if it's Legal, Vox, (Feb. 15, 2019, 11:30 AM), https://www.vox.com/2019/2/15/18225359/trump-speech-national-emergencies-act-border.
[ii] Aaron Rupar, Trump: We Need a Wall to Reduce Crime. Also Trump: Crime Rates are Low, Vox, (Jan. 23, 2019, 5:15 PM), https://www.vox.com/policy-and-politics/2019/1/23/18194714
/trump-crime-border-wall-argument.
[iii] Scott Horsley, Many Presidents Have Declared Emergencies—But None Like Trump Has, NPR, (Feb. 15, 2019, 3:19 PM), https://www.npr.org/2019/02/15/695203852/many-presidents-have-declared-emergencies-but-not-like-trump-has.
[iv] Donald J. Trump, President, United States of America, Speech at the Rose Garden in Washington, D.C. (Feb. 15, 2019).
[v] Grace Segers, Trump's National Emergency Declaration Could Face National Challenges, CBS News, (Feb. 15, 2019, 12:32 PM), https://www.cbsnews.com/news/trump-declaration-of-national-emergency-could-face-challenges/.
[vi] Laura Parker, 6 Ways the Border Wall Could Disrupt the Environment, (Jan. 10, 2019), https://www.nationalgeographic.com/environment/2019/01/how-trump-us-mexico-border-wall-could-impact-environment-wildlife-water/.
[vii] Aylin Woodward, Trump's $5 Billion Border Wall Plan Could Wreak Environmental Havoc, Causing Rivers to Flood and Animals to Become 'Zombie Species,' Business Insider, (Jan. 9, 2019, 11:16 AM), https://www.businessinsider.com/trump-border-wall-could-hurt-the-environment-2019-1.
[viii] Parker, supra note 6.
[ix] Id.
[x] Woodward, supra note 7.
[xi] Id.
[xii] Chris Dinesen Rogers, The Effects of Carbon Dioxide on Air Pollution, Sciencing, (Jan. 9, 2018), https://sciencing.com/list-5921485-effects-carbon-dioxide-air-pollution.html.
[xiii] Id.
[xiv] Id.
[xv] In re Border Infrastructure Envtl. Litig., 284 F. Supp. 3d 1092, 1103 (S.D. Cal. 2018).
[xvi] Id.
[xvii] Id. at 1109.
[xviii] Id. at 1107.
[xix] Id. at 1110.
[xx] Id.
[xxi] Id. at 1130-148.
[xxii] Jeremy Hobson & Samantha Raphelson, Trump Could Use Eminent Domain to Build a Border Wall, But it Would be Complicated, Wbur, (Jan. 16, 2019), https://www.wbur.org/hereandnow/2019/01/16/trump-eminent-domain-border-wall.
[xxiii] Camilo Montoya-Galvez, Hurd Says 1,000 Texas Farmers Could Have Land Seized to Build Trump's Border Wall, (Feb. 17, 2019, 12:48 PM), https://www.cbsnews.com/news/william-hurd-on-face-the-nation-says-1000-texas-farmers-could-have-land-seized-to-build-trumps-border-wall/.
[xxiv] Hobson, supra note 17.
[xxv] Katie Zezima & Mark Berman, Trump's Wall Needs Private Property. But Some Texans Won't Give Up Their Land Without a Fight, The Washington Post, (Jan. 10, 2019), https://www.washingtonpost.com/national/trumps-border-wall-would-need-private-property-but-texas-landowners-plan-to-dig-in-for-lengthy-legal-fight/2019/01/10/d7e4cba8-1443-11e9-803c-4ef28312c8b9_story.html?utm_term=.c5aa661737da.
[xxvi] Id.
[xxvii] Id.
[xxviii] Id.
[xxix] Jane C. Timm, California AG: At least 13 States Suing Over Trump's National Emergency, NBC News, (Feb. 18, 2019, 2:01 PM), https://www.nbcnews.com/politics/donald-trump/california-ag-least-13-states-suing-over-trump-s-national-n972796.
[xxx] Id.