The Center anchors national security law at Georgetown.
Georgetown Law is the place to study national security law. We offer the leading academic program in the field, both for J.D. students and for students pursuing an LL.M. in national security law, anchored by a faculty of unparalleled expertise and accomplishments. Our full-time professors are leaders in their fields, excelling in scholarship, in innovative simulations and other experiential learning initiatives, in practice, and in policymaking. Our visiting and adjunct faculty members are leading practitioners drawn from the highest levels of government, the private sector, and the nonprofit and advocacy worlds. Many students arrive at Georgetown Law with a background in national security and related fields. All who study in the area leave with an unparalleled depth of knowledge of contemporary issues in the area, as well as experience with how lawyers operate within it.
One memorable opportunity available to students at Georgetown, is the National Security Crisis Law Simulation. For more on the sim, see the video below, and click here.
The 2018 National Security Crisis Law Simulation

Taking part in the Georgetown Law National Security Crisis Law Simulation seemed like the natural decision for Ashley Nicolas (L'19), a former U.S. Army Intelligence Officer. She explains how it proved to be one of the most challenging and rewarding academic experiences of her life.The 2018 "sim" featured a robust list of women (students, faculty and alumnae) who are making powerful strides in the arena of national security. Learn more: http://bit.ly/2sujWiH

Posted by Georgetown Law on Thursday, May 31, 2018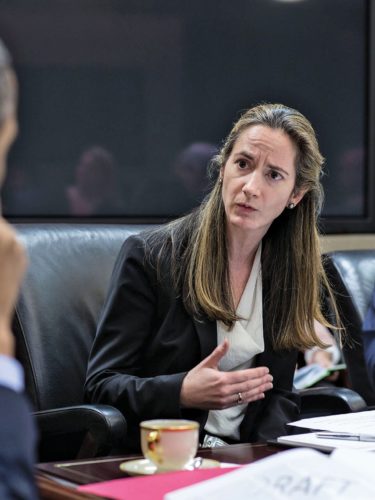 Avril Danica Haines (JD '01) was the first female White House Deputy National Security Advisor, serving in the Obama administration. She previously served as Deputy Director of the Central Intelligence Agency, as the first woman to hold this position. Prior to her appointment to the CIA, she served as Deputy Counsel to the President for National Security Affairs in the Office of White House Counsel.
In March of 2017, Ms. Haines was honored with the Alumnae Award at Georgetown Law's annual Women's Forum.