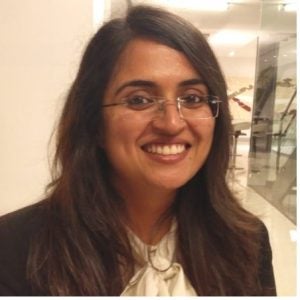 Gunjan Chawla is Programme Manager of the Technology and National Security team at the Centre for Communication Governance. Her research focuses on issues that arise at the intersection of technology and national security law, including surveillance, cybersecurity, information warfare, and the interplay of international legal norms with domestic regulation.
Prior to joining CCG, Chawla worked at the International Court of Justice in the Hague, Netherlands as a Judicial Fellow to His Excellency Judge Patrick L. Robinson. Previously, she has also worked as a legislative assistant (PRS Legislative LAMP Fellow 2014-15) to former Member of Parliament (Rajya Sabha), Mr. Avinash Pande and has a background in criminal litigation.
Chawla is an alumna of the National Law University Delhi. She was a recipient of the Charpak Scholarship of Excellence (2015-16) awarded by the Embassy of France in New Delhi and obtained a Master in International Affairs with a concentration in defence and security economics from the Institut d'Études Politiques de Paris (Sciences Po). She also holds an LLM in National Security Law from the Georgetown University Law Center. At Georgetown, she was a part of the editorial team of the Journal of National Security Law and Policy and a member of the Guantanamo Observers' Program.