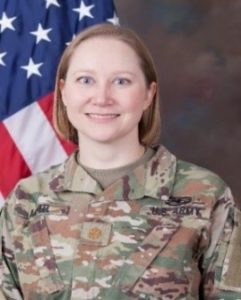 Major Jennifer McKeel is currently serving as the Deputy Staff Judge Advocate at U.S. Army Cyber Command in Virginia. She has served in various capacities as an Army Judge Advocate for the past 13 years.
MAJ McKeel's past assignments include serving as the Command Judge Advocate to the Commander, 32nd Army Air and Missile Defense Command, the legal advisor to the Commander, 3rd Infantry Brigade Combat Team, 1st Armored Division in Afghanistan during Operation Enduring Freedom, the operational law legal advisor for 1st Armored Division Command and Staff, and the deputy legal advisor to the Joint Task Force – North Command and Staff. In 1999, she graduated Magna Cum Laude from Arizona State University with a B.A. in Broadcast Journalism.
In 2005, MAJ McKeel graduated Magna Cum Laude from California Western School of Law. In 2014, she received her LL.M. in Military Studies at The Judge Advocate General's Legal Center and School and in 2017, she received her LL.M. in National Security Law at Georgetown University Law Center.