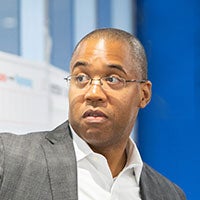 Dr. Dawan Stanford is the Design Studio Director and Professor in the Master of Arts in Learning and Design at Georgetown University. The degree combines methods of learning and design, learning analytics, technology and innovation, and emerging challenges in future of the university. The Studio serves as a space where students integrate their core coursework in the program, develop as learning design practitioners, apply design methods to their projects, and develop their leadership, collaboration and facilitation skills.
Dr. Stanford is the Consulting Director of Design Thinking at Elon University and a leader in "By Design," Elon's design thinking initiative. The initiative is aimed at further enhancing Elon's premier experiential learning environment. The goals include better integrating student learning, assisting students in productive risk-taking and innovation, forming stronger partnerships and increasing innovation within the liberal arts tradition. Since Fall 2016, Dr. Stanford has been working with Elon University faculty, staff and students to help facilitate, advise and advance programming at Elon, as well as to connect them with others around the country doing similar work.
Since 2008, Dr. Stanford has owned and operated Fluid Hive, a design-driven innovation studio, where he combines design, design thinking, research, and his Silicon Valley and international business experience. Fluid Hive helps organizations to see, solve and act on challenges that are complex, dynamic, and interconnected using design-driven innovation processes, methods and mindsets.