Social Media Governance Task Force
The Center's NatSec Tech incubator's pilot project – Social Media & Tech 360: Innovation, Security, & Governance – will address a range of risks and opportunities emanating from social media, including disinformation campaigns, online extremist organizing, regulatory gaps and the privatization of public oversight. Task Force members include experts from diverse backgrounds and experiences, including from the legislative, judicial, and executive branches of the US government, technology companies, traditional and next generation media, law, finance, civil society, and academia. Members are contributing in their individual capacities.
Meet the task Force
Matt Abrams
Abrams is a technologist, investor, advisor, speaker, and outdoor adventurer who inspires startup founders and C-level executives to think bigger and bolder. His expertise and focus is in: Enterprise Data & Analytics, Artificial Intelligence (AI) & Machine Learning, Information Quality & Integrity, Security, and Healthcare.
He has spent over 25 years in the Enterprise software industry working across various Government, Healthcare, Startups, Enterprises and Venture Capital Funds and organizations.
View Matt Abrams' Full Profile
---
Gerrin T. Alexander
Alexander is a Senior Opinion Editor for the Chicago Thinker. As a 2021 graduate from the University of Chicago, Gerrin holds degrees in Political Science and Public Policy. Much of her political interest stems from research concerning the intersection of faith and politics within the African American community.
She loves longboarding, cooking, hanging with her family, watching anime, reading manga, and traveling.
---
Leonard Bailey
Bailey is Head of Computer Crime and Intellectual Property Section's (CCIPS) Cybersecurity Unit and Special Counsel for National Security in the Department of Justice's (DOJ) Criminal Division.
He joined DOJ's Terrorism and Violent Crime Section in 1991. In the late 1990's, he served as Special Counsel and Special Investigative Counsel to DOJ's Inspector General and supervised sensitive investigations of Department officials and programs.
View Leonard Bailey's Full Profile
---
Sharon Bradford Franklin
Franklin is Co-Director of the Center on Democracy & Technology's Security and Surveillance Project. She leads advocacy on a broad range of issues involving surveillance, civil liberties, and civil rights.
Before joining CDT, Sharon was the policy director for New America's Open Technology Institute, where she directed OTI's policy work on issues including cybersecurity, encryption, freedom of expression online, government surveillance, privacy, and transparency and platform accountability.
View Sharon Bradford Franklin's Full Profile
---
Whitney Kimball Coe
Coe is a vice president and Director of National Programs for the Center for Rural Strategies.
She directs the work of the National Rural Assembly, a program that brings together rural leaders and advocates from every region with national public- interest organizations, funders, and policymakers in ways that inform public policy and private investment in rural people and places.
View Whitney Kimball Coe's Full Profile
---
G. Marcus Cole
Cole is the Joseph A. Matson Dean and Professor of Law at Notre Dame Law School. Dean Cole is a leading scholar of the empirical law and economics of commerce and finance. He was a faculty member at Stanford Law School from 1997, until his arrival at Notre Dame, where he held two endowed chairs and taught courses in the areas of bankruptcy, banking, contracts, and venture capital.
He served for five years as associate dean for curriculum and academic affairs.
View G. Marcus Cole's Full Profile
---
Laura K. Donohue
Donohue is the Chair of the Social Media Governance Task Force and Professor of Law at Georgetown Law, Director of Georgetown's Center on National Security and the Law, and Director of the Center on Privacy and Technology.
She writes on political theory, public law, constitutional law, federal courts, national security, and legal history. Her work on new and emerging technologies centers on social media, biometric identification, augmented and virtual reality, artificial intelligence, and drones.
View Laura K. Donohue's Full Profile
---
Doowan Lee
Lee is the CEO and cofounder of VAST-OSINT. With VAST-OSINT, he builds automated data analytic tools to detect and expose the origin of disinformation and how it propagates across the media ecosystem.
He has published extensively on how to combat both state-sponsored and extremist influence campaigns.
View Doowan Lee's Full Profile
---
Judge Margaret McKeown
McKeown was appointed to the United States Court of Appeals for the Ninth Circuit in 1998. She graduated from Georgetown University Law Center in 1975 and holds an honorary degree from Georgetown University.
She has published and lectured throughout the world on intellectual property, international law, ethics, and constitutional law and has participated in numerous rule of law initiatives with judges and lawyers.
View Judge Margaret McKeown's Full Profile
---
Saiph Savage
Savage is an Assistant Professor at Northeastern University and co-Director of the Civic Innovation Lab at the National Autonomous University of Mexico (UNAM).
For her civic tech research, Dr. Savage was named one of the 35 Innovators under 35 by the MIT Technology Review where she focuses on organizing citizen crowds to address critical problems in society.
View Saiph Savage's Full Profile
---
Amanda Shanor
Shanor is an Assistant Professor at the Wharton School at the University of Pennsylvania, where her scholarship focuses on constitutional law, and in particular the intersection of the First Amendment and economic life.
Prior to joining the academy, Shanor was a practicing lawyer in the National Legal Department of the American Civil Liberties Union.
View Amanda Shanor's Full Profile
---
Congresswoman Lori Trahan
Trahan proudly serves Massachusetts' Third District. Growing up in a working-class family in Lowell, Massachusetts, Lori learned the principles of sacrifice, hard work, and grit. The first in her family to graduate college, Lori earned a scholarship to play Division 1 volleyball at Georgetown University. After college, she joined former Congressman Marty Meehan's staff, working her way up to Chief of Staff.
After serving Massachusetts for nearly ten years, Lori moved to the private sector as the only female executive at a tech company and later a co-founder of a women- owned and -operated consulting firm focused on elevating women to leadership positions.
View Congresswoman Lori Trahan's Full Profile
---
Irene S. Wu
Wu is a senior analyst at the Federal Communications Commission and an expert on the global politics, history, and regulation of communications technology, with publications on telecom regulation in China, politics and technology.
View Irene S. Wu's Full Profile
---
Design Facilitator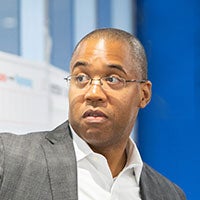 Dr. Dawan Stanford is the Design Studio Director and Professor in the Master of Arts in Learning and Design at Georgetown University. The degree combines methods of learning and design, learning analytics, technology and innovation, and emerging challenges in future of the university.
The Studio serves as a space where students integrate their core coursework in the program, develop as learning design practitioners, apply design methods to their projects, and develop their leadership, collaboration and facilitation skills.