Meryl Chertoff is the Executive Director of SALPAL (Project on State and Local Government Policy and Law) and an adjunct professor of law at Georgetown Law.  From 2009 to 2019 she served as the Executive Director of The Aspen Institute's Justice and Society Program. Among her notable work at Aspen was the direction of seminars for judges, lawyers, and state government officials, creation of the Inclusive America Project, and direction of the Sandra Day O'Connor Conversation. With the support of the Robert Wood Johnson Foundation, she directed two cohorts of the Excellence in State Public Health Law program. 
From 2006-2009 she directed the Sandra Day O'Connor Project at Georgetown Law, on judicial independence and civic education.
Chertoff has had a variety of positions in and around state government. She was Director of the New Jersey Washington Office, served on the legislative staff of a New Jersey Assembly leader, and worked as a lobbyist in Trenton.  Chertoff worked in the Office of Legislative Affairs at the Federal Emergency Management Agency (FEMA) participating in the agency's transition into the Department of Homeland Security in 2003.    
She contributes opinion writing to The Hill, Bloomberg Law, and other publications. SALPAL has taken an active online role commenting on the role of governors and state public health agencies in combatting the COVID-19 pandemic.
She is a graduate of Harvard College and Law School, and served as a law clerk to Federal District Judge Myron H. Thompson (M.D. Ala). She is admitted to the Bar in New York and New Jersey, is a Fellow of the American Bar Foundation, and is an ABA Advisor to the Uniform Law Commission's Study Committee on State Governance During Public Health Emergencies. 
Sheila R. Foster is SALPAL's Faculty Advisor and a Professor of Law and Public Policy (joint appointment with the McCourt School). Prior to joining Georgetown, she was a University Professor and the Albert A. Walsh Professor of Real Estate, Land Use, and Property Law at Fordham University. She also co-directed the Fordham Urban Law Center and was a founder of the Fordham University Urban Consortium. She served as Associate Dean and then Vice Dean at Fordham Law School from 2008-2014. Prior to joining Fordham, she was a Professor of Law at the Rutgers University in Camden, New Jersey.
She writes in the areas of environmental law and justice, urban land use law and policy, and state and local government. Her most recent work explores questions of urban law and governance through the lens of the "commons" exemplified by her article The City as a Commons, Yale Law and Policy Review (2016) and forthcoming MIT Press Book, The Co-City.
Professor Foster has been involved on many levels with urban policy. She currently is the chair of the advisory committee of the Global Parliament of Mayors, a member of the Aspen Institute's Urban Innovation Working Group, an advisory board member of the Marron Institute for Urban Management at NYU, and sits on the New York City Panel on Climate Change.As co-director with Christian Iaione of the Laboratory for the Governance of the Commons (LabGov), she is currently engaged in the "Co-Cities Project," an applied research project on public policies and local projects from over 100 cities around the world.
Kathryn Randolph, State and Local Justice Fellow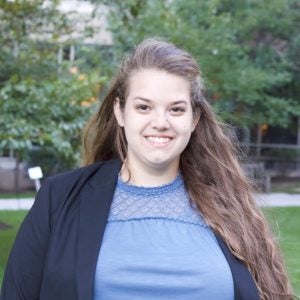 Kathryn Randolph, Georgetown Law '21, is our inaugural State and Local Justice Fellow. A graduate of New York University (A.B. '16) Kathryn worked in field organizing with Clean Water Action in Michigan prior to entering law school. There, she focused on state-level issues ranging from promoting a statewide septic code to shutting down an outdated oil pipeline violating its easement. Her work with CWA to shape environmental policy in her home state led to her interest in state law and election law.
During law school, Kathryn worked with Represent Us, a non-profit tackling election reform and anti-corruption measures, and with the Federal Trade Commission's Consumer Protection Bureau. She was also a short-term fellow with the Washington Bureau of the Nation Urban League, working with the Equitable Justice team to monitor developments in federal courts, advocate for policy changes in federal agencies, and collaborate with other civil rights organizations in promoting voting rights. Her research focus at SALPAL will include election law and administration in the states.
Advisory Committee
Sam Arora – L'10, Georgetown Law
Uwe Brandes – Faculty Director, Urban & Regional Planning, School of Continuing Studies; Faculty Director, Global Cities Initiatives
Heidi Li Feldman – Co-Director, Joint Degree in Law and Philosophy
Jay Gonzalez – L'96, Georgetown Law
Regina LaBelle – Program Director, Addiction and Public Policy Initiative at the O'Neil Institute for National and Global Health Law
Eloise Pasachoff – Associate Dean for Careers at Georgetown Law; Prof. of Law in Admin Law
Misha Tseytlin – L'06, Georgetown Law
Research Assistants
Judith Benigni, L' 23