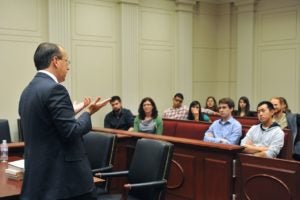 The Moot Court Program is the centerpiece of the Supreme Court Institute's public service activities. These practice sessions allow attorneys to prepare for oral arguments before the Court.
The Law Center has become the principal stop of many counsel seeking expert assistance in oral argument preparation prior to appearing before the Court. Nearly all of the cases heard by the Court each Term are mooted at Georgetown before a panel of "Justices" that includes law faculty and experienced Supreme Court advocates. While the SCI is especially interested in providing assistance to those attorneys who will be arguing at the Court for the first time, the Institute also holds moot courts for some of the nation's very best and most experienced Supreme Court advocates.
Moots are provided as a public service to counsel at no charge on a non-partisan basis. Most moot courts take place in the Supreme Court Institute Moot Courtroom, located on the Law Center campus in the Hotung International Building, Room 2003.