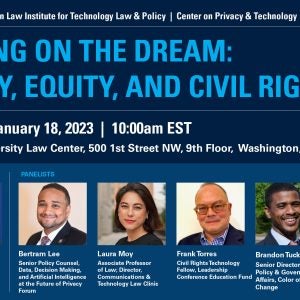 10am ET
500 First Street, NW and via live streaming
Building on the Dream: Privacy, Equity, and Civil Rights
Alan Davidson, the Assistant Secretary of Commerce for Communications and Information, will discuss the need for federal action at the intersection of privacy, equity, and civil rights at an in-person event Wednesday, January 18 co-hosted by the Georgetown Law Institute for Technology Law & Policy and Center on Privacy & Technology.

The ways in which companies collect, share, and use data can exacerbate existing structural inequities, and these practices often inflict outsized harm on marginalized communities and vulnerable populations. There is potential for federal action that could mitigate the risks created by commercial data practices.

Davidson will provide remarks on an NTIA inquiry into this area at 10 am January 18, followed by a panel discussion.