In today's legal landscape, the well-trained lawyer needs to understand the ways that technology and law increasingly intersect — and be comfortable with the digital tools that are shaping twenty-first century practice.
At Georgetown Law, we are integrating deep, hands-on technological instruction with a traditional technology law curriculum. Core courses provide a rigorous grounding in privacy, intellectual property, cybersecurity and antitrust law. Our advanced courses and seminars — taught by full-time faculty and adjunct faculty who are leaders in their fields — range from Advertising Law, to International Trade and Public Health, to the Law of Robots and Music Law.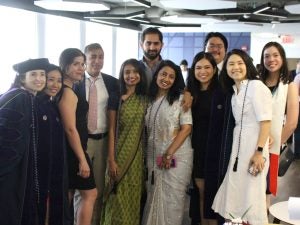 We administer multiple degree programs (J.D., LL.M, Master of Law and Technology) to train the next generation of lawyers to both understand and aggressively interrogate technology; this year, more than 30 students will graduate with a tech degree from Georgetown Law, and since June 2020 more than 100 students have graduated from Georgetown Law's tech programs.