Degrees and Certifications
More than ever, lawyers and policymakers need a deep understanding of technology and the legal frameworks around it.
Law firms are building specialized practices to meet increased legal demands around data security, privacy, artificial intelligence, fintech, and emerging technologies. Elected officials and government agencies require well-grounded counsel to update tech law and regulations. The business and public interest worlds alike demand advocates who can address new legal, ethical and societal challenges as they arise alongside rapid advances in technology.
Technology plays an ever-growing role in our economy, society and political discourse. Rapid innovations in data gathering and analysis, machine learning and digital technology are transforming our social interactions, economic markets, civic institutions – almost every part of our lives. The laws and policy frameworks related to technology are therefore increasingly relevant, and not just to lawyers. Journalists, product developers, entrepreneurs, policy advisors, civil society advocates and others seek specialized, current, sophisticated knowledge of how the law and technology relate to each other.
Georgetown Law developed two new academic programs, a Master of Laws (LL.M) in Technology Law & Policy and a first-of-its kind, Master of Law and Technology (M.L.T.) for non-lawyers to meet these demands.
The Tech Law & Policy Scholars program welcomes a select group of incoming 1L's to concentrate in tech law and policy. Recent cohorts have included students with advanced degrees in engineering and computer science; students with start-up and executive branch experience; and others focused on the intersection of technology and social justice.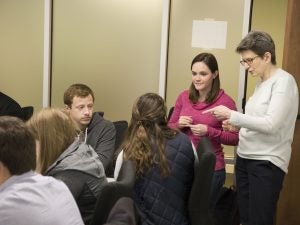 Tech Scholars participate in two year-long seminars in their 1L and 2L years. The 1L seminar exposes Scholars to current ethical, constitutional and policy issues relating to technology through sessions taught by members of Georgetown's technology law faculty. The 2L seminar provides an introduction to key institutions and organizations that shape technology law and policy, through visitor presentations and faculty-coordinated field trips to federal agencies, Congress, the courts, and private sector and non-profit organizations.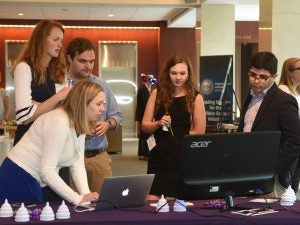 The Technology Law & Policy LL.M. is designed both for recent law school graduates interested in entering technology-related fields, and for mid-career lawyers and policymakers seeking to hone their expertise in this specialty.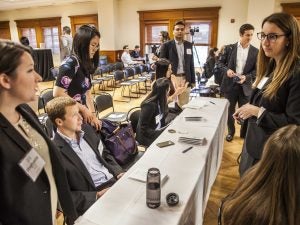 Georgetown's new Master of Law and Technology (MLT) program provides a unique opportunity to understand this quickly evolving area of law. We offer more than 70 tech law courses and have 17 full-time Law Center faculty.