2023 Tech Foundations for Congressional Staff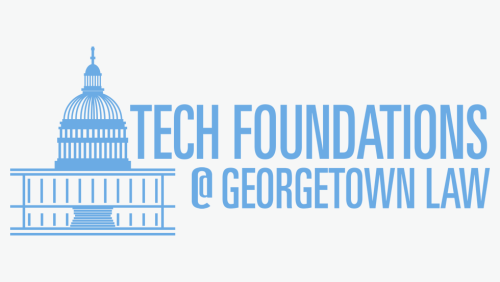 Join your Capitol Hill staff colleagues during August recess for three days of in-depth, in-person conversations with academics, technologists, and practitioners about tech policy issues.
Through a series of on-campus modules that break down the most complicated and timely topics and then put them back together with key next steps, the Georgetown Law Institute for Technology Law & Policy offers a unique opportunity to dive deeply into tech policy from both technological and legal perspectives.
Congressional and federal agency staffers of all levels welcome; attend all sessions or select just a few. Available to government attendees only.
The program is free of charge with box lunches provided and a pay-your-own-way happy hour.
***
When
Tuesday, August 8, 9:30 am-3:00 pm
Wednesday, August 9, 12:30 pm-5:30 pm
Thursday, August 10, 9:30 am-3:00 pm
Where
Georgetown University Law Center Campus (conveniently located near Capitol Hill) | 500 First Street, NW (corner of 1st and E Streets), 9th floor
Who
Congressional and agency staffers, with program faculty including:
John Bansemer, Director of CyberAI Project and Senior Fellow, Georgetown Center for Security and Emerging Technology, Adjunct Professor, Georgetown School of Foreign Service
Dyllan Brown-Bramble, Associate, Latham & Watkins, Senior Fellow, Internet Law and Policy Foundry
Julie Cohen, Mark Claster Mamolen Professor of Law and Technology, Georgetown University Law Center
Mary Pat Dwyer, Academic Program Director, Georgetown Law Institute for Technology Law & Policy
Eric Einhorn, former Chief of Staff to Sen. Brian Schatz
Kara Graves, Partner, Wilkinson Barker Knauer
Diane Holland, Partner, Wiley
Lisa Hone, Chief Counsel, Innovation Data & Commerce Committee at Energy & Commerce Committee (Minority staff)
Margaret Hu, Taylor Reveley Research Professor and Professor of Law, William & Mary Law School
Narda Jones, Chief of Staff, FCC; former Director of Legislative Affairs, White House Office of Science and Technology; former Senior Technology Policy Advisor, Senate Commerce Committee
Natalie Kates, former CTO, White House Covid Response Team
Cynthia Khoo, Senior Associate, Georgetown Law Center on Privacy and Technology
Brenda Leong, Partner, Luminos
John Lin, Senior Counsel, House Energy and Commerce Committee
Jonathan Mayer, Assistant Professor, Princeton University Department of Computer Science and School of Public and International Affairs
Paul Ohm, Professor of Law, Georgetown University Law Center
Gabrielle Rejouis, Legal Fellow, United for Respect/Athena Coalition and Adjunct Faculty, Georgetown University
Natalie Roisman, Executive Director, Georgetown Law Institute for Technology Law & Policy
Ridhi Shetty, Policy Counsel, Center for Democracy and Technology
Neel Sukhatme, Associate Dean for Research and Academic Programs, Anne Fleming Research Professor, Professor of Law at Georgetown University Law Center
Jamie Susskind, Legislative Director, U.S. Senator Marsha Blackburn
Jason Tashea, Founding Director, Judicial Innovation Fellowship
***
DAY ONE | Tuesday, August 8
Breaking It Down: The Foundational Hows and Whys of Platforms, Decentralized Finance, Biometrics, and Generative AI
9:30 am-10 am: Registration/check-in
10 am-10:10 am: Welcome
10:10 am-11:30 am: An Overview of Disaggregated Data Architectures – How They Work and Why They Matter So Much
11:30 am-11:45 am: Break
11:45 am-12:45 pm: The Promise and Problems of Biometrics
12:45 pm-1:15 pm: Boxed lunches provided; group introductions
1:15 pm-2 pm: Lunch Discussion | Understanding Alternatives to Centralized Tech Platforms – Decentralized Finance and Web3
2 pm-2:15 pm: Break
2:15 pm-3 pm: The Rise of Generative AI
DAY TWO | Wednesday, August 9
Making it Equitable: Expanding Access and Advancing Inclusion
12:30 pm-1 pm: Registration/check-in
1 pm-2 pm: Technology That Serves People Through All Branches and Levels of Government
2 pm-2:30 pm: Networking Break
2:30 pm-3:30 pm: The Civil Rights and Liberties Side of AI and Data Privacy
3:30 pm-3:45 pm: Break
3:45 pm-5:15 pm: Driving Broadband Access Through Better Spectrum Policy
5:30 pm: Tech Policy Happy Hour with the Georgetown Tech & Society Initiative
Art & Soul, 415 New Jersey Ave., NW
DAY THREE | Thursday, August 10
Putting It Together: The Path Forward 
9:30-10 am: Registration/check-in
10-10:30 am: Operationalizing Your Takeaways From Tech Foundations
10:30-11:15 am: AI – What Now?
11:15-11:30: Break
11:30-12:15: Data Privacy – What Now?
12:15-1:00: Platform Regulation – What Now?
1-1:15: Break
1:15-3:00: Lunch Roundtable/Panel: Career Tips From Senior Tech Policy Congressional Staff