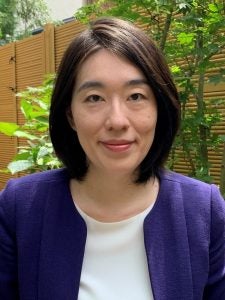 Kyoko Yoshinaga is a Non-Resident Fellow of Georgetown Law's Institute for Technology Law & Policy. Her work at the Tech Institute includes conducting research on the intersection of law and ethics related to Artificial Intelligence (AI), writing in her areas of expertise, participating in policy workshops, and serving as a resource to the Georgetown Law Community. She will be joining Georgetown Global Technology Network Working Group as one of their founding expert members.
Kyoko's research focus has been law and policy on Information Communication Technologies (ICT) and cybersecurity. As a researcher at the Mitsubishi Research Institute, a leading think tank in Tokyo, Japan, she has assisted Japanese Government Ministries in these areas for over 15 years by proposing new legal frameworks, policies, or revisions to laws through commissioned research projects.
The research projects include comparative legal and policy research on privacy, personal data protection, hate speech, information security governance, telecommunications, broadcasting, e-signature, e-commerce, intellectual property rights, national identification number, youth protection, sharing economy, and Alternative/Online Dispute Resolution.
In recent years, she has been working on the legal and ethical issues related to AI. Kyoko has been selected as an Expert at GPAI (Global Partnership on Artificial Intelligence) which secretariat is hosted at OECD from January 2023 to contribute to the Working Group on Future of Work. She is also a Visiting Researcher at the Institute for Future Initiatives, University of Tokyo from April 2023.
From 2010 to 2011, Kyoko was a Visiting Fellow at the Yale Law School's Information Society Project (Yale ISP). Kyoko received an LL.M. from the University of Tokyo and an LL.B from Sophia University.
Contact: ky263@georgetown.edu