James Carey
James Carey is a Policy Fellow at the Civil Justice Data Commons.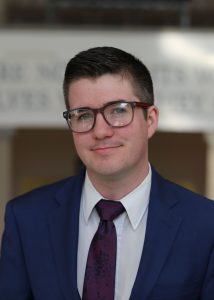 James is a Policy Fellow at Georgetown's Massive Data Institute, which has partnered with Georgetown University Law Center for the Tech Institute's Civil Justice Data Commons project (CJDC). At the CJDC, James puts his technical background and legal skills to work by helping guide research and policy concerning court data, as well as working on the legal and technical infrastructure required to let the project flourish. In addition to his work on the CJDC, James also contributes to other initiatives focused on privacy and technology policy that touch the justice system.
Before joining the Massive Data Institute full time, James was a Justice Fellow with the Tech Institute, where he started his work with the CJDC as well as other projects including the Institute's academic programs, educational events, and research into cutting-edge policy programs that explored how technology can advance justice.
James holds a J.D. from Georgetown University Law Center and a B.A. from Hendrix College in Conway, Arkansas.