Meet Our Students: Fritz Family Fellows Ashwin Ramaswami and Esther Tetruashvily
Learn about Tech Law Scholars and Fritz Family Fellows, Esther and Ashwin.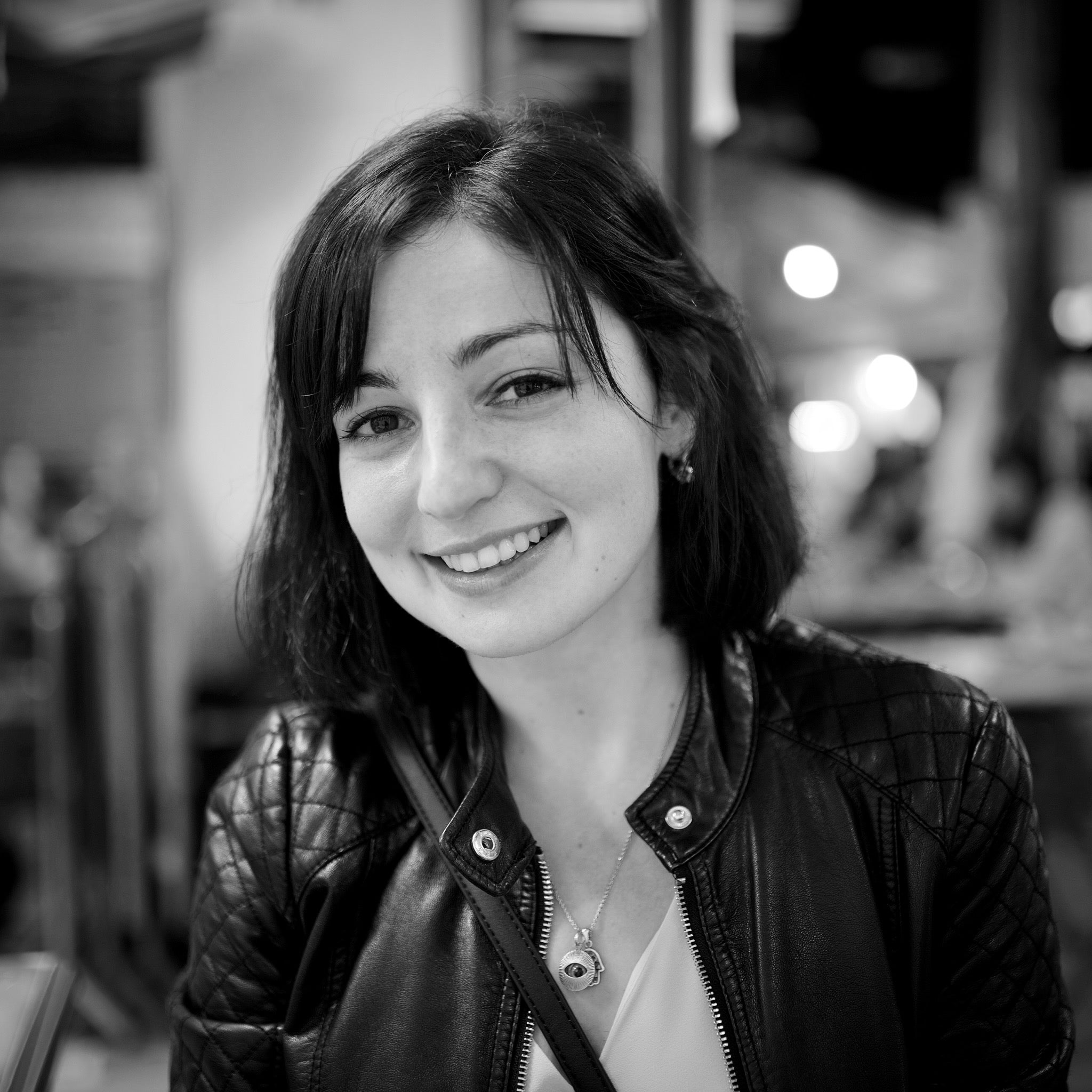 Esther Tetruashvily
Who are you? Tell us about yourself!
My name is Esther Tetruashvily. I am a 3L student, a Technology Law Scholar, and a Fritz Fellow at Georgetown. Before coming to law school, I served as a U.S. Diplomat overseas, working in various roles in U.S. embassies in China, Tajikistan, U.S. Mission to NATO in Brussels and at the Russia Desk. I've always been passionate about human rights, human security, and international relations. Born in Azerbaijan and coming to the U.S. as a refugee has made me particularly sensitive to the vulnerabilities that people experience when the unthinkable happens to them and they are uprooted and forced to restart their lives. This has always made me aware of the various environmental, social, and economic forces that impact people's lives. I bring that perspective into everything I do, especially now in law school where I consider the impacts of law and technology on society.
What drew you to Georgetown's Tech Law Scholars Program?
I left the foreign service for law school because I became increasingly alarmed at how geopolitical technology competition could lead to a race-to-the-bottom in the export and procurement of artificial intelligence-enabled technologies. Serving as a human rights officer overseas, I observed how technology could be used as a shield by activists but also a sword by oppressive regimes. When I was looking for law school programs that could help me understand the soft and hard law that could help support innovation while heading off its greatest harms, the Georgetown Law Institute for Technology Law & Policy's Tech Law Scholar (TLS) program seemed like the perfect fit. With its unparalleled roster of faculty who are experts in technology, national security, and human rights law, and a curriculum that would let me specialize, I knew that the program would give me the training and tools I was seeking to find answers and come up with solutions to these pressing issues.
Tell us about your project with the Fritz Family Fellowship.
The Fritz Family Fellowship is a unique program that gives students the opportunity to work across disciplines to research and find solutions to critical problems at the intersection of technology and society. With this multidisciplinary approach in mind, I've worked with diverse groups of centers, professors, and professionals on issues related to inclusive digital trade and the governance of artificial intelligence.
Last year, I worked with Professor Katrin Kuhlmann of the Center on Inclusive Trade and Development (CITD) and Professor Anupam Chander from the Georgetown Tech Institute's Global TechNet Working Group to organize a conference, where participants developed an agenda for how to make digital trade more inclusive. I also worked with John Bransemer of the Center for Security and Emerging Technology (CSET) on a study on quantum computing and cybersecurity regulation.
This year I am working with Professors Neel Sukhatme (Tech Institute), Katrin Kuhlmann, and Dr. Heather Frase (CSET) to identify the unique AI harms that arise from global competition in artificial intelligence and the impact such a race would have on issues of digital trade, inclusion, global inequality, and the potential enablement of digital authoritarianism. Through the fellowship, we hope to create a matrix of harms and identify appropriate regulations and strategies to mitigate and prevent them and propose those solutions to policymakers.
Which class from the tech curriculum has been your favorite so far?
It is really hard to choose. We have so many classes that are great. I took a class on State Cyber Operations and Responses with Professor Pete Pascucci last fall, and an Advanced Foreign Intelligence Law class with Professor Laura Donohue in the Spring. Both classes really helped shape my perspectives on how to regulate emerging technologies and the associated trade-offs of doing so. But perhaps if I had to choose, I would pick serving as a student attorney in the Communications and Technology Law Clinic under the direction of Professor Laura Moy. It was an unbelievable experience, because not only did I get to synthesize all of the learning I was doing in my classes, but I could also put it to practice representing clients on issues ranging from algorithmic discrimination to surveillance of vulnerable populations.
What are you looking forward to most about your 3L year?
My close friend and fellow TLS-er Ashwin Ramaswami and I found an obscure provision in the Student Handbook last year where students can propose to lead a seminar. What started out as a debate about the potential harms of open source AI and what could be done about it, turned into a class we will be co-leading in the fall called the Law of Open Source Software. We are so excited that Professor Paul Ohm agreed to be our faculty supervisor and that Professor Urska Velikonja, Associate Dean for Academic Affairs, agreed to approve the course and support us. I am really looking forward to learning from the discussion and debates we have in this class and seeing what insights and solutions we'll uncover. In addition to the class, some fellow TLS-ers and I are running Georgetown's Cyber Law Society this year. We are already brainstorming a series of talks, events, and activities that we hope will bring our classes to life and introduce Cyber Law to more students on campus.
What advice do you have for prospective students who are considering Georgetown Law?
If you are interested in the intersection of emerging technology and the law, Georgetown really is the best place for you. I would encourage students to look at our website and join our events, in-person and online, and reach out to current students. I would add that if you are interested in policy, because of Georgetown's location in D.C. we have regular interactions with lawmakers, agency leaders, and legal practitioners, which can often translate into valuable internships, experiences, and unique insights. If you know what area of the law you want to focus on, really do your homework on the program, the location, and the type of exposure you will have. I think that really makes all the difference.
What other interests do you have outside of law?
I am a total post-Soviet studies and science fiction nerd, and love anything that can combine those two. In my free time, I try to stay up on news in the region and read science fiction written from Russian and Chinese perspectives. One of my favorite short science fiction stories is called Folding Beijing, written by a Chinese economist. If you haven't read it, you should! It's amazing! I also enjoy spending time with my husband, Robert, and my family and friends, and whenever possible, traveling and exploring new cities and food.
Ashwin Ramaswami
Who are you? Tell us about yourself!
I'm Ashwin Ramaswami, I'm a rising 3L at Georgetown Law. I grew up in Johns Creek, GA and have a background in computer science. I love building things and the intersection of technology, law, and policy.
What do you do with the Judicial Innovation Fellowship (JIF)?
I support JIF Director Jason Tashea with organizing and planning the Fellowship. I have helped do research to initially inform the structure and focus of the fellowship, helped design the application and review process for applicants and courts, and helped think through overall goals and plans of the Fellowship as a whole.
What drew you to Georgetown/JIF/Fritz Fellowship?
I came to law school because I realized that technology is not built in a vacuum: it intersects with the structures of governance, law, policy, and power that pervade our society today. I thought it was really important to learn more about how our society works through law and policy, and Georgetown is a great place to do that while also having the opportunity to do public service through working with the government. I was interested in working on JIF through the Fritz Family Fellowship because of the opportunity to not only work on an interdisciplinary project with my technical background, but be able to work towards an initiative that concretely improves the lives of the least well-off in society through both technology and law.
What have you enjoyed most about your experience so far with JIF?
I have really enjoyed being immersed in the access to justice field by talking with court officials, professionals, and researchers in this field. It's an area that I had little familiarity with before joining law school, and I've been very inspired by the work people are doing in this sphere and glad that I have the opportunity to contribute to their work.
What are you looking forward to most about the upcoming months as the fellow selection progresses?
In the coming months, I am most looking forward to meeting the fellows who ultimately get selected! It would be great to be able to meet people who are excited about improving access to justice with technology and who have decided to dedicate a year of their lives to working with court systems on this task.
What advice do you have for students who share your interests in tech law and policy?
You're in a really special field where there is a lot of opportunity and space to help with various efforts. You don't need to have a technical background to be a great expert in tech law and policy — the field needs more people from all kinds of backgrounds. Try new things out and find your niche!
What other interests do you have outside of law?
I am interested in various topics including software development, digital humanities, reading history, religion, and Hindu philosophy. Talk to me about these any time!