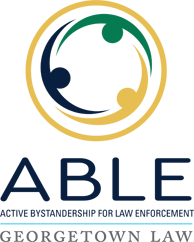 ABLE
The Georgetown Law Center for Innovations in Community Safety (formerly known as the Innovative Policing Program), partnering with global law firm Sheppard Mullin, has created ABLE (Active Bystandership for Law Enforcement) to prepare officers to successfully intervene to prevent harm and to create a law enforcement culture that supports peer intervention.
ABLE builds upon a training developed by Dr. Ervin Staub, the Founding Director of the UMass Amherst Psychology of Peace and Violence Program, to help police officers stop unnecessary harmful behavior by fellow officers. In 2014, Dr. Staub, other experts, and the New Orleans Police Department developed the successful Ethical Policing Is Courageous (EPIC) Peer Intervention Program in New Orleans. ABLE builds upon EPIC and Dr. Staub's prior work to develop and deliver practical, scenario-based training for police agencies in the strategies and tactics of police peer intervention.
ABLE guides agencies and communities on the concrete measures that must be in place to create and sustain a culture of peer intervention. ABLE also provides a wide array of resources to communities and law enforcement agencies across the country interested in adopting ABLE.
ABLE Leadership
ABLE is led by Director Lisa A. Kurtz and is housed at the Center for Innovations in Community Safety (CICS). CICS is led by Executive Director Tahir Duckett and Faculty Co-Directors Professor Christy Lopez and Professor Rosa Brooks. The ABLE Board of Advisors is chaired by Sheppard Mullin Partner Jonathan Aronie and is comprised of law enforcement, civil rights, social justice, and academic experts from across the country, including Commissioner Danielle Outlaw, Commissioner Michael Harrison, Mr. Roy Austin, and Dr. Tracie Keesee, among many others.
The work of ABLE is further guided by our Corporate Advisory Group and our Research Advisory Board. A collection of pro bono lawyers from law firms and industry partners, led by Sheppard Mullin partner Dan Brown, provides additional pro bono support to ABLE's many activities.
ABLE Instructional Design
ABLE training is evidence-based and founded upon decades of research, field and lab experiments, and on-the-ground experience. The ABLE team has brought together experts from a wide array of disciplines to ensure ABLE training incorporates the best and newest thinking about active bystandership, and continues to evolve as we learn more about what makes people active or passive bystanders.
In development of the core, 8-hour ABLE curriculum, the ABLE team received the input and feedback of (among others) Dr. Ervin Staub, Professor Emeritus, UMass Amherst; Dr. Joel Dvoskin, Professor, University of Arizona Medical School; Dr. Deidre Magee, Academic Director at the New Orleans Police Department Police Academy; Professor Christy Lopez, Georgetown Law Center Distinguished Visitor from Practice and Faculty Co-Director of CICS; Jonathan Aronie, ABLE Project Board of Advisors Chair and co-founder of the Sheppard Mullin Organization Integrity Group; Sheriff Sue Rahr, former Director of the Washington State Criminal Justice Training Commission; Karen Collins Rice, Program Design and Development, Rice Performance, Inc.; and ABLE Director, Lisa A. Kurtz.
The ABLE team makes yearly updates to the curriculum to ensure it reflects the latest learning on active bystandership in law enforcement contexts. The team also produces yearly refresher training curricula, which all officers at ABLE agencies are required to complete. Ongoing instructional design work is led by ABLE Curriculum Designer Karen Collins Rice in collaboration with ABLE Director Lisa A. Kurtz and a working group of ABLE instructors, law enforcement officers, psychologists, social scientists, and other community members.
The ABLE Logo
The ABLE logo was designed to reflect helpfulness, active bystandership, diversity, and inclusivity. The three images in the circle are meant to represent individuals: two law enforcement officers and a community member. The image is suggestive of one officer putting a hand on another officer's shoulder as a reflection of active bystandership. That each individual has a hand on another shoulder is a reminder that active bystandership is tool that everyone — officers and community members — can use to prevent harmful behavior.
The color scheme also presents its own symbolism. The blue and green give a nod to law enforcement, while the gold is intended to reflect the importance of placing paramount value on every community member as an individual. The openness of the center of the image is meant to reflect a safe space for an intervention, a courageous conversation, the creation of allyship, and other helpful behavior. That the outer circle is gold — the same color as the community member symbol within the circle — is a reminder that, to have legitimacy, law enforcement must be fully responsive to the needs and demands of the community it serves.
ABLE and the ABLE logo are service marks of the Georgetown University Law Center. Please see our Frequently Asked Questions for information regarding use of the ABLE service marks and logos.