CAROLA and the Supreme Court Institute at Georgetown Law Co-Host A Delegation of the Supreme Court of Peru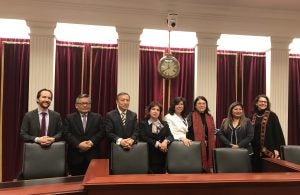 On October 20, 2022, CAROLA and the Supreme Court Institute (SCI) at Georgetown Law were honored to host the President of the Supreme Court of Peru, the Honorable Justice Elvia Barrios Alvarado, and four sitting Justices from the Supreme Court of Peru and the Superior Court of Cusco. The meeting took place at the SCI's landmark moot courtroom at Georgetown Law Center and was organized as part of a program sponsored by the Embassy of the United States in Peru and the American Bar Association Rule of Law Initiative (ROLI).
CAROLA's Executive Director and Adjunct Professor Lelia Mooney chaired the Justices and Georgetown Law Centers discussion. Professor Alvaro Santos, CAROLA's Faculty Director, kicked off the event by providing context to the Center's horizontal approach to the rule of law. Following, Professor Santos presented the Center's research on the Investor-State Dispute Settlement in Latin America and the Caribbean (ISDS) and the challenges for governments and investors across the Americas. Professor Shrager walked members of the delegation through the Institute's centerpiece work, the Supreme Court Moot Court Program, which taps into the expertise of faculty and outside practitioners to prepare counsel for oral argument before the Court. Lastly, Professor Mooney engaged in a dialogue with the Justices on how rising social, environmental, and governance regulatory standards and litigation around the world are creating demand and conditions for sustainable investment and the role of the Judiciary in promoting governance and the rule of law across the Americas.