Towards Inclusive Digital Trade: Data, Development & Trust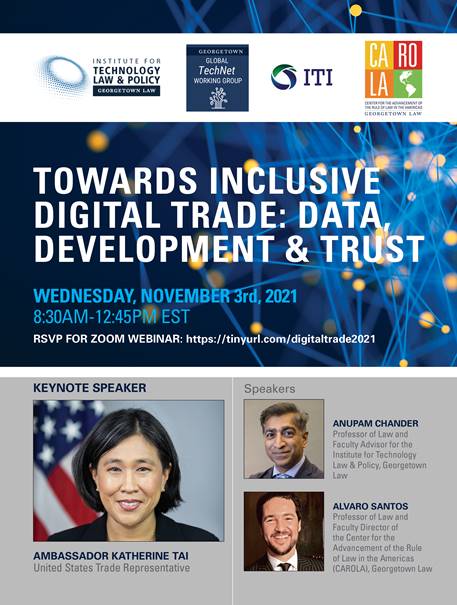 The Biden-Harris Administration presents an opportunity to reset our country's approach to global digital policy and renew our commitment to global engagement and development. On November 3, we joined with the Georgetown Global TechNet Working Group of the Institute for Technology Law & Policy (Tech Institute) to convene policymakers, industry leaders, and scholars to discuss key issues in digital trade. The discussion centered on inclusive digital trade to promote development and Transatlantic data flows, and explored the implications of emerging regulatory approaches to data and innovative technologies for trade and trade policy. The event was enabled by the generous support of the Information Technology Industry Council (ITI).
Schedule:
8:30-8:35 Opening Remarks: April Falcon Doss, Georgetown Law, and Jason Oxman, ITI.
8:35-9:20 Keynote Address by USTR Ambassador Katherine Tai: Followed by conversation with Alvaro Santos, Georgetown Law.
9:20-10:50 Digital Tade and Development: Panelists include Neha Mishra, ANU College of Law, Emily Mburu-Ndoria, AfCFTA Secretariat, and Parminder Jeet Singh, ITforChange. Moderated by Anupam Chander, Georgetown Law.
10:50-12:20 Data, Trade, and Regulation: Panelists include Mira Burri, University of Lucerne, Jared Carlson, Ericsson, Theodore Christakis, University Grenoble Alpes, and Bruno Gencarelli, European Commission. Moderated by Usman Ahmed, Georgetown Law and Paypal.
12:20-12:25 Concluding Remarks: Lelia Mooney, Georgetown Law.