Fellows & Scholars
We offer several programs to engage seasoned experts and law students on debates regarding constitutional law and interpretation. Those programs include our Visiting Scholars Program, Resident Scholars Program, Resident Fellows Program, Bradley Fellows Program, and Student Fellows Program.
Donald Kochan is our Visiting Scholar during Fall 2018 and the Parker S. Kennedy Professor of Law and Associate Dean for Research & Faculty Development at Chapman University Dale E. Fowler School of Law. His teaching and scholarship focus on areas of property law, constitutional law, administrative law, environmental and natural resources law, and law & economics, among others.
Evan Bernick is a Visiting Lecturer at the Georgetown University Law Center and a Resident Fellow at the Georgetown Center for the Constitution. He will be in residence for two years (2017-2019) and will be teaching seminars on administrative law.
Nine members of the Georgetown Law Faculty are Resident Scholars. Their published scholarship explores many fields of interest including legal history, comparative constitutional law, statutory interpretation and criminal law.
The Bradley Fellows Program awards several fellowships to Georgetown Law students with an interest in originalism and the Constitution.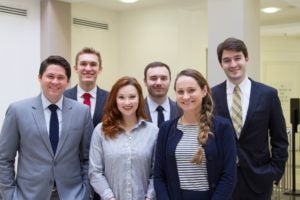 We welcome students to join our Student Fellows Program which provides special access to activities such as lunchtime conversations with the nation's leading experts on constitutional law, and private meetings with speakers prior to co-sponsored Center events.