Fellows & Scholars
We offer several programs to engage seasoned experts and law students on debates regarding constitutional law and interpretation. Those programs include our Visiting Scholars Program, Resident Scholars Program, Resident Fellows Program, Bradley Fellows Program, and Student Fellows Program.
Professor Somin is a Professor of Law at George Mason University. His research focuses on constitutional law, property law, and the study of popular political participation and its implications for constitutional democracy.  He is the author of Democracy and Political Ignorance: Why Smaller Government is Smarter(Stanford University Press, revised and expanded second edition, 2016), and The Grasping Hand: Kelo v. City of New London and the Limits of Eminent Domain (University of Chicago Press, 2015, rev. paperback ed., 2016), coauthor of A Conspiracy Against Obamacare: The Volokh Conspiracy and the Health Care Case(Palgrave Macmillan, 2013), and co-editor of Eminent Domain: A Comparative Perspective (Cambridge University Press, 2017).  Democracy and Political Ignorance has been translated into Italian and Japanese.
Evan Bernick is a Visiting Lecturer at the Georgetown University Law Center and a Resident Fellow at the Georgetown Center for the Constitution. He will be in residence for two years (2017-2019) and will be teaching seminars on administrative law.
Nine members of the Georgetown Law Faculty are Resident Scholars. Their published scholarship explores many fields of interest including legal history, comparative constitutional law, statutory interpretation and criminal law.
The Bradley Fellows Program awards several fellowships to Georgetown Law students with an interest in originalism and the Constitution.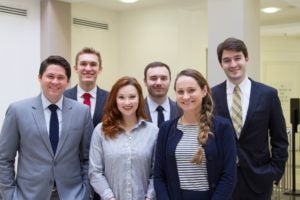 We welcome students to join our Student Fellows Program which provides special access to activities such as lunchtime conversations with the nation's leading experts on constitutional law, and private meetings with speakers prior to co-sponsored Center events.