Bradley Fellows Program
The Bradley Fellows Program will award six fellowships to J.D. degree-seeking students: 1L, 2L, 1E, 2E, and 3E (who will be enrolled both semesters of their 4E year) students with an interest in originalism and the Constitution.
Program Details
In return for a stipend, Bradley Fellows are required to:
Attend the entire Originalism Summer Seminar from May 18-22nd, 2020;
Attend the programs of the Georgetown Center for the Constitution during the following school year (unless prevented by a conflict);
Attend our colloquium and symposium: Salmon Chase Distinguished Lecture and Colloquium and the Thomas M. Cooley Judicial Lecture and Symposium.
Write a report at the end of the year-long fellowship describing:

How the fellowship has enhanced their legal education—for example, by writing a paper on an originalism-related topic for a seminar, a journal note, or an independent study;
How their experience as a Bradley Fellow is likely to influence their future careers.
A portion of the stipend ($2000) will be paid after completing the Summer Seminar, with the remaining portion ($2000) after acceptance of the report submitted at the end of the fellowship year (e.g., at the end of the 2L year for fellows accepted as 1Ls).  Additional information about the requirements will be contained in the fellowship agreement to be signed by selected applicants.
How to Apply
Applications should be submitted as a single PDF to Fran Djoukeng, Program Manager for the Georgetown Center for the Constitution, at the following email address: <Fnd3@georgetown.edu>. The deadline for applications is Friday, February 7, 2020.
Please submit the following documents in a single PDF to <Fnd3@georgetown.edu>:
Cover page (GPA, J.D. Graduation Year, Journal Affiliation);
2. Résumé;
3. 600-1000 word statement (see below);
4. Transcripts from all degree-granting institutions (unofficial OR
official).
The statement should explain your interest in originalism, your career goals and aspirations, and address the following questions:
What is your understanding of originalism?
Why do you want to attend the Summer Seminiar?
What role will originalism play in your career?
Current Fellows
The Bradley Fellows for 2019-20 are:
Atherton, Blake (L'21)
Blake attended Georgetown University's School of Foreign Service, where he graduated magna cum laude, Phi Beta Kappa, and with honors in the major. Also while at Georgetown, Blake walked-on to the Men's Varsity Soccer Team as a freshman, a team which reached the Division I National Championship. Upon graduating from Georgetown, Blake won the Saint Andrew's Society Scholarship to earn his postgraduate degree in the U.K., where he received a Master's degree with Distinction from the University of St Andrews. At Georgetown Law, Blake is a Senior Articles Editor on the Georgetown Journal of Law & Public Policy, an Executive Board member of the Federalist Society, and a Global Law Scholar.
Davidson, Erielle (L'21)
Erielle Davidson is a Senior Contributor at the Federalist and a law stu-dent at Georgetown University Law Center. She previously was an eco-nomic research assistant at the Hoover Institution and a Publius Fellow at the Claremont Institute. She graduated from Middlebury College with a B.A in Russian, with a focus on Eastern European security issues.
Freeman, Ellie (L'21)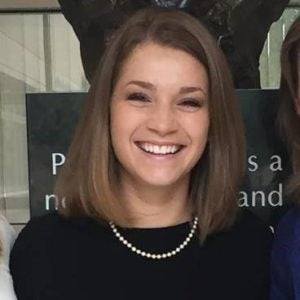 Ellie graduated from the Bush School of Government and Public Service with her Master of International Affairs in 2017. Her graduate studies fo-cused on national security and diplomacy with an emphasis on the Mid-dle East. As an Honors student at Texas A&M University, Ellie majored in International Studies and Spanish, with a minor in Arabic Studies. Ellie completed a capstone research project analyzing gender inequality in Egypt, and later produced an award-winning graduate presentation and team report for USAID studying societal responses toward refugees in Europe after the Syrian refugee crisis. Throughout her studies, she has interned on capitol hill, worked with a human rights non-profit, on a presi-dential campaign, and in the public sector in national security. She has also enjoyed spending time in Mexico, Rwanda, Egypt, Qatar, Belgium and Greece practicing her foreign language skills and volunteering in local communities. After completing graduate school, Ellie spent a year studying advanced Arabic through Harvard's Center for Arabic Study Abroad (CASA) fellowship program at the American University in Cairo, and traveling through Indonesia. Her experiences abroad, a lifelong love for foreign cultures and languages and a passion for justice led her to Georgetown Law as a Global Law Scholar. As 1L year comes to an ea-gerly anticipated close, she is looking forward to taking courses in inter-national human rights, national security and constitutional law. Ellie speaks Arabic, Spanish, and conversational French, and is looking for-ward to continuing the summer of 2019 as a Bradley Fellow and Black-stone Legal Fellowship intern.
Iacono, Nicholas (L'22)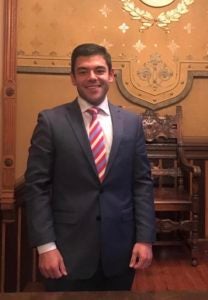 Nick Iacono is a second-year evening student at Georgetown University Law Center and a native of Staten Island, NY. Prior to law school, Nick held a number of public and private sector communications positions, previously serving as Communications Director for former Congressman Michael Grimm (NY-11) and as Director of Public Relations for the Archdiocese of New York's Catholic School system, the second largest nonpublic school system in the country. A proud "Double Hoya," Nick graduated magna cum laude from Georgetown University in 2012 with a B.A. in Government, where he served as president of the Philodemic Society, one of the nation's oldest collegiate debate societies, and was the 2012 winner of the prestigious Richard T. Merrick Debate Medal. While at Georgetown, Nick's essay "The Conservative Objection to the Individual Mandate," a legal critique the Affordable Care Act, was published in Utraque Unum, the journal of The Tocqueville Forum on the Roots of American Democracy. Nick currently serves as an Associate Director of the Annual Fund at Georgetown Law Center, where he specializes in law-firm alumni development for the university. Nick is an active member of the Student Bar Association, the Federalist Society, Georgetown's nationally ranked Trial Advocacy Team, and is on the staff of the Georgetown Journal of Law & Public Policy.
Palmer, Leah (L'21)
Leah Palmer is a first-year law student at Georgetown University Law Center. Originally from Saint Paul, Minnesota, Leah recent-ly moved to Virginia from the United Kingdom after completing her undergraduate degree in psychology at the University of Glasgow and working in various user experience research posi-tions in London's technology sector. Leah is a Public Interest Fellow at GULC and is interested in working in impact litigation and criminal justice reform.
Velenchuk, Timofey (L'21)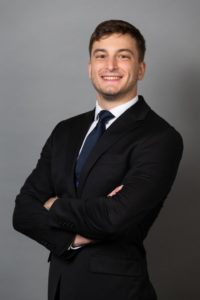 I was born in Ukraine and moved to Philadelphia when I was two and a half years old. I went to college at Penn State where I majored in economics and political science and mi-nored in psychology and history. As part of the Schreyer Hon-ors College at Penn State, I wrote my thesis on war and con-flict in regime transitioning states. I also conducted psycholo-gy and social science research, and at an Eastern Psycho-logical Association Conference, I had the opportunity to pre-sent my research on body behavior and social chemistry. I speak Ukrainian, Russian, and am a former concert pianist. Currently, I am a first year law student at Georgetown Univer-sity Law Center.