Bradley Fellows Program
The Bradley Fellows Program will award six fellowships to J.D. degree-seeking students: 1L, 2L, 1E, 2E, and 3E (who will be enrolled both semesters of their 4E year) students with an interest in originalism and the Constitution.
Program Details
In return for a stipend, Bradley Fellows are required to:
Attend the entire Originalism Summer Seminar from May 23rd to May 29th, 2021;
Attend the programs of the Georgetown Center for the Constitution during the following school year (unless prevented by a conflict);
Attend our colloquium and symposium: Salmon Chase Distinguished Lecture and Colloquium and the Thomas M. Cooley Judicial Lecture and Symposium.
Write a report at the end of the year-long fellowship describing:

How the fellowship has enhanced their legal education—for example, by writing a paper on an originalism-related topic for a seminar, a journal note, or an independent study;
How their experience as a Bradley Fellow is likely to influence their future careers.
A portion of the stipend ($3000) will be paid after completing the Summer Seminar, with the remaining portion ($1000) after acceptance of the report submitted at the end of the fellowship year (e.g., at the end of the 2L year for fellows accepted as 1Ls).  Additional information about the requirements will be contained in the fellowship agreement to be signed by selected applicants.
How to Apply
Awards for the 2021-2022 fellowship are open. Applications should be submitted as a single PDF to Elana Quint, Program Manager for the Georgetown Center for the Constitution. The deadline for applications is Friday, February 5, 2021.
Please submit the following documents in a single PDF to <elana.quint@georgetown.edu>:
Cover page (GPA, J.D. Graduation Year, Journal Affiliation);
2. Résumé;
3. 600-1000 word statement (see below);
4. Transcripts from all degree-granting institutions (unofficial OR
official).
The statement should explain your interest in originalism, your career goals and aspirations, and address the following questions:
What is your understanding of originalism?
Why do you want to attend the Summer Seminiar?
What role will originalism play in your career?
Current Fellows
The Bradley Fellows for 2020-2021 are:
Heigis, Eric (L'22)
Eric Heigis is the Legislative Director to a Member of the U.S. House of Representatives and a second-year evening student at Georgetown University Law Center. In his day job he focuses on Oversight, Transportation, Judiciary, and Economic policy. At Georgetown he is an active member of the Federalist Society and serves as an Executive Editor for the Georgetown Journal of Law and Public Policy. Eric has been a licensed pilot for eight years, and in his free time he enjoys flying to small airports up and down the East Coast in his Cessna.  Eric is a native of Orange County, California and moved to the Washington, D.C. area to attend college. He graduated from American University with a combined major in Communications, Law, Economics, and Government (CLEG) and a minor in Business Administration. While at American University he served for three years on the student government's Judicial Board, rising to the position of Chief Justice.
Henry, Elizabeth (L'22)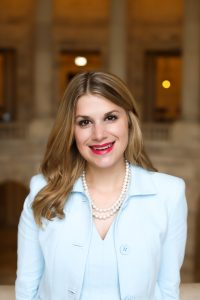 Elizabeth just completed her second year as an evening student at Georgetown Law, while continuing to work full-time in the United States Senate. Elizabeth currently serves as Health Policy Advisor and Director of Administration to Senator Cindy Hyde-Smith. Prior to this role, Elizabeth served as Health Legislative Assistant to Senator Thad Cochran, who was then Chairman of the Senate Appropriations Committee. At Georgetown Law, Elizabeth is on the Dean's List and is active in several student activities. She is the Vice President for Evening Students of the Georgetown Law Federalist Society, a member of the nationally ranked Georgetown Law Appellate Advocacy (moot court) team, an Executive Editor of the Food and Drug Law Journal, and a law fellow in the legal research and writing program. A Mississippi native, she graduated cum laude from Yale in 2014 with a B.A. in ethics, politics, and economics.
Hogan, Molly (L'21)
Molly Hogan is a student at Georgetown University Law Center, originally from Chicago, Illinois. Previously, Molly was as a legal assistant at Schiff Hardin and a Dave Kennedy Fellow at the Institute for Justice. Molly is a member of the Georgetown Journal of Law & Public Policy, co-President of the Federalist Society chapter at GULC, and a 2019 Blackstone Fellow. She graduated from The George Washington University magna cum laude with departmental honors in 2016, where she studied Political Communication and wrote her thesis on public perception of mandatory minimum sentencing.
Reiger, Michael (L'22)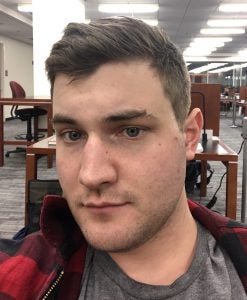 Michael is a rising 2L at Georgetown University Law Center. He graduated from the University of Michigan in 2016 with the highest honors and a major in history. He has previously worked for Rep. Justin Amash in the House of Representatives and the Cato Institute.
Ristuccia, Nathan (L'22)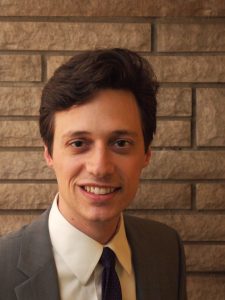 Nathan J. Ristuccia is a student at Georgetown University Law Center. He received his B.A. in Classics from Princeton University and his M.A. and Ph.D. in Medieval Studies from the University of Notre Dame. Prior to entering Georgetown, Nathan taught history and Latin for years at the University of Chicago and Rockbridge Academy. Nathan has published more than twenty article and essays on European intellectual history and the Middle Ages. His first book—Christianization and Commonwealth in Early Medieval Europe: A Ritual Interpretation (Oxford: 2018)—won the 2019 Brewer Prize from the American Society of Church History.
Schneider, Dana (L'22)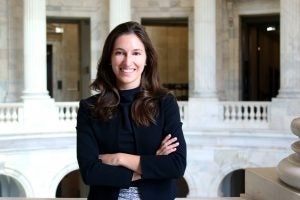 Dana Schneider is a rising 2L at Georgetown Law. At Georgetown, she is a fellow in both the Institute of International Economic Law and the Georgetown Center for the Constitution. She is a member of the Federalist Society and 1L representative. Prior to law school, Dana worked as a Banking Fellow for Senator Pat Toomey and as head paralegal in Davis Polk's Financial Institutions Group. She obtained her B.A. in Political Science, with distinction, from Yale College. Her undergraduate thesis on the exclusionary rule won the Percival Wood Clement Prize. Dana also holds a Master of Music degree in Harp Performance from the New England Conservatory and has won numerous prizes as a professional harpist. She is from Harmony, PA.