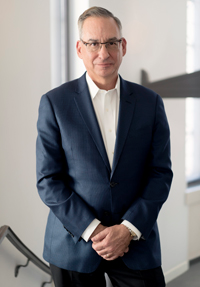 Randy E. Barnett
Director
Randy E. Barnett is the Patrick Hotung Professor of Constitutional Law at the Georgetown University Law Center and is Director of the Georgetown Center for the Constitution. After graduating from Northwestern University and Harvard Law School, he tried many felony cases as a prosecutor in the Cook County States' Attorney's Office in Chicago. A recipient of a Guggenheim Fellowship in Constitutional Studies and the Bradley Prize, Professor Barnett has been a visiting professor at Penn, Northwestern and Harvard Law School.
Professor Barnett's publications includes twelve books, more than one hundred articles and reviews, as well as numerous op-eds. His most recent book is The Original Meaning of the Fourteenth Amendment: Its Letter and Spirit (2021) (with Evan Bernick). His other books on the Constitution include: An Introduction to Constitutional Law: 100 Supreme Court Cases Everyone Should Know (2019) (with Josh Blackman); Restoring the Lost Constitution: The Presumption of Liberty (2nd ed. 2013); Our Republican Constitution: Securing the Liberty and Sovereignty of We the People (2016); and Constitutional Law: Cases in Context (4th ed. forthcoming 2022) (with Josh Blackman). His books on contracts are The Oxford Introductions to U.S. Law: Contracts (2010) and Contracts: Cases and Doctrine (7th ed. 2021) (with Nate Oman). And he is the author of The Structure of Liberty: Justice and the Rule of Law (2nd ed. 2014).
In 2004, he argued the medical marijuana case of Gonzalez v. Raich before the U.S. Supreme Court. In 2012, he was one of the lawyers representing the National Federation of Independent Business in its constitutional challenge to the Affordable Care Act in NFIB v. Sebelius. He's appeared in numerous documentaries, including PBS's Constitution USA with Peter Sagal and A More or Less Perfect Union with Judge Douglas Ginsburg; and he portrayed a prosecutor in the 2010 science-fiction feature film, InAlienable: The Movie. He blogs on the Volokh Conspiracy.
Elana Quint             
Program Manager
Elana Quint is the Center's Program Manager and an evening J.D. student at Georgetown Law. She is a Technology Law & Policy Scholar, President of the Cyberlaw Society, Co-President of the Conservative and Libertarian Student Association, Co-Director of Faculty Engagement for the Federalist Society, and competes on Georgetown's nationally-ranked Trial Advocacy Team. Her academic interests center around emerging technology and its impact on criminal procedure, constitutional law, and moral philosophy.
Elana graduated summa cum laude from Barrett, the Honors College at Arizona State University with degrees in Civic and Economic Thought and Leadership (B.A.) and Philosophy (B.A.) She was awarded the Dean's Medal as the most outstanding graduate. Her honors thesis examined the use of phenomenal and access consciousness to better understand neural activity in patients diagnosed with brain death. In addition to her studies, Elana competed across the country on the Mock Trial, Ethics Bowl Debate, and Policy Debate teams.
Prior to attending law school, Elana worked in Congress, taught debate at the Victory Briefs Institute, and participated in fellowships with the Hertog Foundation, American Enterprise Institute, Institute for Humane Studies, and the Institute for Justice. She is a four-time Arizona State Champion in speech and debate and classical ballet dancer.