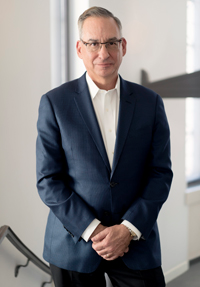 Randy E. Barnett
Director
Randy E. Barnett is the Carmack Waterhouse Professor of Legal Theory at the Georgetown University Law Center, where he teaches constitutional law and contracts, and is Director of the Georgetown Center for the Constitution. After graduating from Northwestern University and Harvard Law School, he tried many felony cases as a prosecutor in the Cook County States' Attorney's Office in Chicago. A recipient of a Guggenheim Fellowship in Constitutional Studies and the Bradley Prize, Professor Barnett has been a visiting professor at Penn, Northwestern and Harvard Law School.
Professor Barnett's publications includes twelve books, more than one hundred articles and reviews, as well as numerous op-eds. His works include Restoring the Lost Constitution: The Presumption of Liberty (2nd ed. 2013), The Structure of Liberty: Justice and the Rule of Law (2nd ed. 2014), and his latest book, Our Republican Constitution: Securing the Liberty and Sovereignty of We the People (2016). His other books include The Oxford Introductions to U.S. Law: Contracts (2010), Contracts: Cases and Doctrine (6th ed. 2016), and Constitutional Law: Cases in Context (3rd ed. forthcoming 2018).
In 2004, he argued the medical marijuana case of Gonzalez v. Raich before the U.S. Supreme Court. In 2012, he was one of the lawyers representing the National Federation of Independent Business in its constitutional challenge to the Affordable Care Act.  He's appeared in numerous documentaries, including PBS's Constitution USA with Peter Sagal; and portrayed a prosecutor in the 2010 science-fiction feature film, InAlienable.
Evan Bernick
Executive Director
Evan Bernick is the Executive Director of the Georgetown Center for the Constitution and Visiting Professor of Law at Georgetown. He joined the Center in August 2020 after serving as a clerk to Judge Diane S. Sykes of the United States Court of Appeals for the Seventh Circuit. From April 2017 to April 2019, he was a Visiting Lecturer at Georgetown and a Resident Fellow of the Center for the Constitution. His scholarship focuses on constitutional law and administrative law. He has published with the Georgetown Law Journal, the Notre Dame Law Review, the William and Mary Law Review, and the George Mason Law Review, among other journals. He received his J.D. from the University of Chicago Law School in 2011, and he graduated with honors from the University of Chicago in 2008.
Elana E. Quint             
Program Manager
Elana Quint is the Program Manager for the Center and will start her J.D. at Georgetown Law in Fall 2020. At Georgetown, Elana is a Technology Law & Policy Scholar and a member of the Federalist Society. She graduated with honors from Arizona State University with a B.A. in Philosophy and a B.A. in Civic and Economic Thought and Leadership.