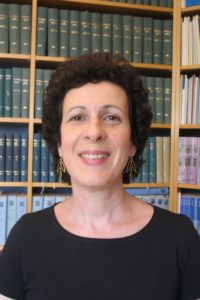 Hebrew University of Jerusalem
Daphna Lewinsohn-Zamir
Areas of Expertise:
Brief Bio
Prof. Daphna Lewinsohn-Zamir (LL.B., cum laude, 1986;LL.D. (Doctor of Law), summa cum laude, 1994) is Louis Marshall Professor of Environmental Law at the Hebrew University of Jerusalem. Her fields of interest are property law and theory, law and normative ethics, law and economics, behavioral law and economics, and experimental legal studies.
Prof. Lewinsohn-Zamir has clerked for Justice Dov Levin of the Israeli Supreme Court. She has received numerous awards and prizes, including the Hebrew University President's Prize for the Excellent Young Scholar, the Fulbright Scholarship and the Rothschild Fellowship. She has been a Visiting Researcher at Harvard Law School, a Visiting Scholar at Yale Law School, a Global Visiting Professor at NYU Law School and a Visiting Professor at Georgetown Law Center and the Center for Transnational Legal Studies in London.
Representative Publications
The Importance of Being Earnest: Two Notions of Internalization, 65 University of Toronto Law Journal 37 (2015).
Do the Right Thing: Indirect Remedies in Private Law, 94 Boston University Law Review 55 (2014).
Can't Buy me Love: Monetary versus In-Kind Remedies, 2013 University of Illinois Law Review 151.
Identifying Intense Preferences, 94Cornell Law Review 1391 (2009).
In Defense of Redistribution Through Private Law, 91 Minnesota Law Review 326 (2006).
The Objectivity of Well-Being and the Objectives of Property Law, 78 New York University Law Review 1669 (2003).
The Choice between Property Rules and Liability Rules Revisited: Critical Observations from Behavioral Studies, 80 Texas Law Review 219 (2001).
Consumer Preferences, Citizen Preferences and the Provision of Public Goods, 108 Yale Law Journal 377 (1998).
Courses taught at CTLS
Advanced Property Law (Fall 2011, Fall 2013, Fall 2016)

Selected Topics in Land Use Law: Theoretical, Comparative, and International Perspectives (Fall 2016)