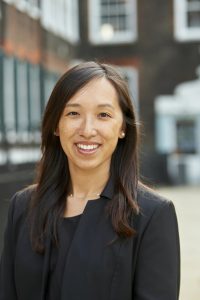 39 Essex Chambers
Grace Cheng
CTLS Vis Moot Team Coach 2021-22 & 2022-23
Brief Bio
Grace is an English barrister, a qualified Hong Kong solicitor and has rights of audience before the AIFC Court (Kazakhstan) and DIFC Courts (Dubai). She has also been granted full registration as a registered foreign lawyer at the Singapore International Commercial Court. In addition to speaking fluent English, Cantonese and Mandarin, Grace has a working knowledge of French and Spanish.
Grace is a member of the Bar Council's ADR Panel, and is included on various panels and databases of arbitrators including AIAC (Malaysia); BAIAC (Singapore); BIAMC (Indonesia); CACM (Mozambique); CAA (Taipei); CEAC (Hamburg); Delos (Paris); FINRA (US / Puerto Rico); HIAC (Hainan); HKIAC (HK); ICC (UK); LCIA (UK); LMAA (UK); PIAC (Vietnam); SCC (Stockholm); SHAC (Shanghai); SHIAC (Shanghai); SIAC (Singapore); THAC (Thailand); WTC Macau Arbitration Center (Macau); Sport Resolutions (International); and the World Intellectual Property Organization. She is also on various panels of adjudicators including HKA (HK); HKIAC (HK); LMAA (UK); TECBAR (UK); and UKA (UK).
Grace has taught law at the University of Oxford, King's College London, the University of Warwick, the National Chengchi University, and the National Taiwan University. She is a member of the AIAC Academy Tutors Panel and the AIFC Academy of Law Academic Pool.
Grace obtained a First Class Honours degree in law from the LSE and the BCL from the University of Oxford. She previously worked at Slaughter and May and was judicial assistant to the Honourable Mr Justice Blair when he was the Judge in Charge of the Commercial Court. She has also assisted Professor Ewan McKendrick with the latest two editions of Goode and McKendrick on Commercial Law.