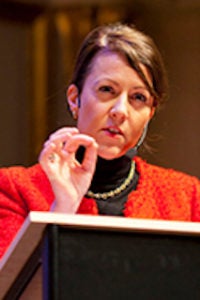 Queen Mary, University of London
Maxi Scherer
Areas of Expertise:
Brief Bio
Maxi Scherer is a member of the Centre for Commercial Law Studies (CCLS) and School of International Arbitration at Queen Mary University of London (QMUL). She teaches in the LLM programme, in particular courses on International Arbitration and Energy, Comparative Commercial Arbitration, International Trade and Investment Dispute Settlement and International Litigation, Conflict of Law. Maxi Scherer is also the Director of the LLM in Paris programme, as well as the Director of the Centre for Commercial Law Studies (CCLS) in Paris.
She has published numerous articles and books in the field of international arbitration and dispute resolution, including Transparency in International Investment Arbitration (A Guide to the UNCITRAL Standard on Transparency in Treaty-Based Investor-State Arbitration) (co-editor), Cambridge University Press, 2015; Arbitrating under the 2014 LCIA Rules (co-author), Wolters Kluwer, 2015; and The New York Convention on the Recognition and Enforcement of Foreign Arbitral Awards (co-author), C. H. Beck München & Hart Publishing Oxford, 2012. A full list of Maxi's publications can be found on her SSRN page.
Maxi has extensive experience with arbitral practice both in civil and common law systems. She has practised as a lawyer for almost 20 years. She represented clients in numerous international arbitrations proceedings and has served as arbitrator in over 30 ad hoc and institutional arbitrations (ICC, LCIA, HKIAC, DIS etc), including as sole arbitrator, co-arbitrator, presiding arbitrator and emergency arbitrator. She is admitted to the bar in Paris (France) and as solicitor (England and Wales) and has been regularly ranked by Who's Who Legal, The Legal 500 UK etc. as leading arbitration practitioner.
Maxi is the General Editor of the Kluwer Journal of International Arbitration. Other current or past academic appointments include Global Professor of Law at NYU Law School, Visiting Professor at SciencesPo Law School Paris, Adjunct Professor at the Georgetown Center for Transnational Legal Studies, as well as visiting positions at Bucerius Law School Hamburg, University of Melbourne, Freie Universität Berlin, Sorbonne Law School, Université de Versailles, Université de Fribourg Switzerland, Universität Würzburg, Pepperdine Law School, Université de Bourgogne, Universität Basel and Université de Paris X Nanterre.
Maxi studied law at Cologne University, Germany (LLM, summa cum laude) and at University Paris 1 Pantheon-Sorbonne, France (maitrise, DEA, top of class) where she also earned her PhD in international private law (summa cum laude). She is a member of the Paris Bar and a solicitor in England and Wales. Maxi speaks English, French and German fluently.
Courses taught at CTLS
International Arbitration Law (Fall 2013, Fall 2011)