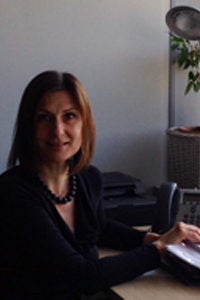 University of Torino
Mia Caielli
Areas of Expertise:
Brief Bio
Mia Caielli is  an associate professor of "Comparative Public Law" at the Law Department of the  University of Turin after serving as  an assistant professor (2001-2015) and a research fellow (1997-2001). She received her Ph.D. degree in "Comparative Law" at the University of  Florence (2004) and has been visiting  scholar at the Case Western Reserve University in Cleveland (1996) and trainee  at the European Court of Justice (1996). She is currently teaching Public law; Comparative Constitutional  Justice; Indian Law and Anti-Discrimination Law. She is a member of the board of directors of CIRSDe (Research Center for Women's and Gender Studies of the University of Turin) and on  the editorial boards of a number of Italian comparative law reviews. Her main  research interests include comparative constitutional justice, public interest  litigation, Indian law, gender equality and affirmative actions and has  lectured in Italy and abroad in these fields.
Representative Publications
Books:
– Cittadini e giustizia  costituzionale. Contributo allo studio dell'actio popularis (Torino:  Giappichelli, 2015).
– Le azioni positive nel costituzionalismo contemporaneo (Napoli: Jovene, 2008).
Recent Articles:
– Public Interest  Litigation: a Form of Popular Legislative Initiative?, 4 Diritto  Pubblico Comparato ed Europeo (2014).
– Il diritto di  partecipazione politica attraverso l'accesso diretto alla giustizia  costituzionale: alcune considerazioni comparatistiche a partire dall'acción  pública de constitucionalidad colombiana, in J. Roa Roa (ed.), El modelo  colombiano de control de constitucionalidad. Elementos para sua defensa, (Universitàdegli Studi di Trento: Trento, 2014).
– La tutela dell'orientamento sessuale in India  tra giudici e legislatore: un anomalo self-restraint della Corte Suprema, 2 Diritto  pubblico comparato ed europeo – online (2014).
– Governo debole,  giudiziario forte: alcune riflessioni sull'azione di pubblico interesse in  India, Forum Quaderni costituzionali (2012).
– Attivismo giudiziale e utilizzo della  comparazione giuridica in alcuni emblematici hard cases indiani e statunitensi, in M. Cavino, C. Tripodina (eds.), La tutela dei diritti fondamentali tra  diritto politico e diritto giurisprudenziale: "casi difficili" alla  prova, (Giuffré: Milano 2012).
– La devolution scozzese: il referendum sullo Scotland Act  1978 del 1° marzo 1979, in A. Torre, J.O. Frosini (eds.), Democrazia rappresentativa e referendum nel  Regno Unito, (Maggioli editore: Santarcangelo di Romagna, 2012).
– The Increasing Role of Italian  Regions in Combating Discrimination: the Case of Piedmont, (with V. Santostefano), in AA.VV, Equal is not enough. Challenging Differences  and Inequalities in Contemporary Societies (Conference Proceedings) (PRCEO:  Antwerp-Hasselt, 2011).
Courses taught at CTLS
Affirmative Action Law (Fall 2015)
Anti-discrimination Law in Europe (Fall 2015)