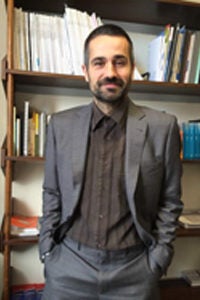 ESADE Law School
César Arjona
Academic Co-Director 2013-2014
Areas of Expertise:
Brief Bio
Professor at ESADE Law School (Barcelona) and at the Center for Transnational Legal Studies (London, Spring 2015). Education in law and philosophy, including doctoral degree from Cornell University (JSD, 2004), and master degree from the European Academy of Legal Theory (Brussels) (LL.M., 2000). Teaches in the fields of Legal Theory, Jurisprudence and Professional Ethics. His writings, in English and Spanish, cover a wide range of fields, from traditional studies in legal philosophy, to legal education and professional ethics, and also appear in professional publications, blogs and general media. He has been visiting professor and speaker in different schools and universities across Europe and North America, including among others Universitat Pompeu Fabra (Barcelona), ICADE Law School (Madrid), Bucerius Law School (Hamburg), Free University of Berlin, University of Southampton, Santa Clara University, Boston College and Georgetown Law. He taught at the Center for Transnational Legal Studies in Fall 2009 and again during the academic year 2013-2014, in which he served as the Academic Co-Director. He is currently co-chair of the Academic Council of the CTLS. His last publication, 'What Law for Transnational Legal Education', co-authored with three students, reflects on the experience of teaching and learning transnational law at the CTLS.
Representative Publications
'What Law for Transnational Legal Education? A Cooperative View on an Introductory Course to Transnational Law and Governance" Transnational Legal Theory, Volume 6, Issue 2 (2015) (forthcoming) (coauthored with Joshua Anderson, Francois Meier and Sierra Robart).
"Transnational Law as an Excuse. How Teaching Law Without the State Makes Legal Education Better", in C. Menkel-Meadow, V. V. Ramraj & F. Werro (eds.), in Teaching Transnational Law: Substantive Issues, Pedagogical Approaches, Ashgate, Oxford (forthcoming, 2015).
"Amorality Explained. Analysing the reasons that explain the standard conception of legal ethics", The Ramon Llull Journal of Applied Ethics, vol.4 (2013), pp.51-66.
"Senses of Sen: Reflections on Amartya Sen's ideas of justice", International Journal of Law in Context, vol.8, n.1, pp.155-178 (2012) (coauthored with Carrie Menkel-Meadow, Arif Jamal, Victor Ramraj & Francisco Satiro).
"Shaping the Future of (Jesuit) Legal Education", Explore, Fall 2011, Santa Clara University.
"Law and Cultural Diversity in Spain", in M.C. Foblets, J.F. Gaudreault-DesBiens & A.D. Renteln, Cultural Diversity and the Law. State Responses from Around the World, Bruylant – Yvon Blais, Brussels, 2010 (coauthored with María Elósegui).
"The Cultural Defence in Spain", in A.D. Renteln & M.C. Foblets, Multicultural Jurisprudence: Comparative Perspectives on the Cultural Defence, Hart Publishing, Oxford, 2009 (coauthored with Barbara Truffin).
Los votos discrepantes del juez OW Holmes, Iustel, Madrid, 2006 (editor and translator into Spanish of the dissenting opinions of Justice Holmes at the US Supreme Court).
Courses taught at CTLS
Core Course: Introduction to Transnational Law  and Governance (Fall 2013)
Legal Ethics and Professionalism (Spring 2015)
Professional Ethics in Business and Law (Fall 2009)
Research Lab on Transnational Law (Spring 2015)
Social Contract Theories in the Global World (Spring 2014)