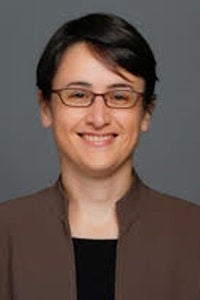 University of Toronto
Mariana Mota Prado
Academic Co-Director Fall 2017
Areas of Expertise:
Brief Bio
Mariana Mota Prado obtained her law degree (LLB) from the University of Sao Paulo (2000), and her master's (LLM) and Doctorate from Yale Law School (2002 and 2008). She is currently an Associate Professor at the Faculty of Law, University of Toronto and Associate Dean (Graduate Studies). Prior to joining the University of Toronto in 2006, she worked for the Private Participation in Infrastructure Database Project at the World Bank (2004), and was a fellow of the Olin Center for Law, Economics and Public Policy at Yale Law School (2005). During the 2012-2013 academic year, she was a visiting researcher at MIT's Political Science Department. A Brazilian national, she has taught courses at Centre for Transnational Legal Studies in London, Direito Rio – Getulio Vargas Foundation Law School in Brazil, ITAM Law School in Mexico, Los Andes Law School in Colombia, and University of Puerto Rico School of Law. Her scholarship focuses on law and development, regulated industries, and comparative law. She has a number of research projects related to institutional reforms in Brazil.
Representative Publications
Books
Advanced Introduction to Law and Development (co-authored with Michael Trebilcock), Edward Elgar (2014).
Law Journal Articles
"The Brazilian Clean Company Act: Using Institutional Multiplicity for Effective Punishment" (with Lindsey Carson and Izabela Correa), Osgoode Hall Law Journal, Vol. 53(1), 2016.
"Brazilian Anti-Corruption Legislation and its Enforcement: Potential Lessons for Institutional Design" (with Lindsey Carson), Journal of Self-Governance and Management Economics, Vol. 4(1) (2016), pp. 34–71.
"Regulatory Cooperation in Latin America: the Case of Mercosur" (with Vladimir Bertrand), Law and Contemporary Problems, Special Issue on Regulatory Cooperation, v. 78 (2015), pp. 205-230.
 "Policing Following Political Transitions: A Comparison of the Former Soviet Union, Latin America, and China", (with Matthew Light and Yuhua Wang), Theoretical Criminology, Special Issue on the former Soviet Union Region,vol. 19 (2) (May 2015), pp. 216-238.
"Process and Pattern in Institutional Reforms: The Police Pacifying Units in Brazil as an Institutional Bypass" (with Graham Denyer Willis), World Development, Vol. 64 (December 2014), pp. 232–242.
Courses taught at CTLS
Core Course: Transnational Law: Structures and Issues (Fall 2017)
Law, Institutions and Development (Spring 2014)
Rights, Resources, and Global Health (Spring 2014)