CJDC Research Contributes to New Book: Legal Tech and the Future of Civil Justice
James Carey | March 29, 2023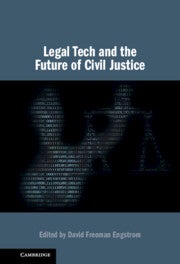 Research by the Civil Justice Data Commons team has contributed to the chapter The Civil Justice Data Gap by CJDC Principle Investigators Dr. Amy O'Hara and Professor Tanina Rostain in the recently published Legal Tech and the Future of Civil Justice, out now from Cambridge University Press. 
The book, edited by Professor David Freeman Engstrom of Stanford University, aims to be an antidote to purely abstract discussions of the nebulous future of "legal tech" by providing "concrete, empirically minded synthesis of the impact of new digital technologies on litigation and access to justice." 
The Civil Justice Data Gap chapter dives into the core issue the CJDC was started to combat—the startling lack of civil justice data—and the technologies that can be used to rectify it today. It discusses the important questions about the civil justice system that exist today (such as how it is infected with structural racial bias, what role does legal representation play, and how it contributes to and interacts with poverty), how data may help answer them, and why data that does so is currently inaccessible. Then it dives into how technology and policy changes may change that, and why the Civil Justice Data Commons is the means to that change that O'Hara, Rostain, and the rest of our team think will be the most effective.
The entire book, including The Civil Justice Data Gap chapter as well as fascinating contributions from other friends of the Civil Justice Data Commons, is available now for free in open access from Cambridge University Press online, and is also available in academic hardback. 
Current and former members of the CJDC team including James Carey, Amy Olivero, Garrett Quenneville, Anna L. Stone, Stephanie Straus, and Eoin Whitney helped make this chapter possible.