The CJDC Has Officially Launched!
Margaret Haughney | November 30, 2022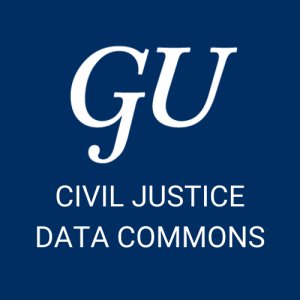 Welcome to the Civil Justice Data Commons
Nearly three years ago, Dr. Amy O'Hara from the Massive Data Institute and Professor Tanina Rostain from Georgetown University Law Center began working on a project to improve access to civil court data. Today, that project officially launches as the Civil Justice Data Commons (CJDC). The CJDC is a secure data repository available for use by researchers, policymakers, and the public to learn more about civil justice issues through evictions, debt, and other civil court case data.
Our team has been working hard these past few years to learn more about the data needs within the civil justice field, to build partnerships and obtain data, and to prepare an environment that makes it easy for CJDC users to analyze the data. We want to thank everyone who has helped us reach this point – all of our colleagues who are doing amazing work to further what can be achieved with court data, our funders at The Pew Charitable Trusts and Alfred P. Sloan Foundation, our collaborators at Redivis who have enabled the CJDC platform to exist, and our Georgetown University team of staff and students.
We are thrilled to present the CJDC and are excited for you to also participate. If you want to explore the data we currently have and apply for access to conduct your own civil justice data project, learn more about using the CJDC here. 
Additional Resources
As part of being a one-stop shop for those who want to learn more about dealing with court data, we have also launched a Knowledge Base on this website. The Knowledge Base contains legal and policy resources, academic literature, and sample code related to civil justice data. Check it out here.